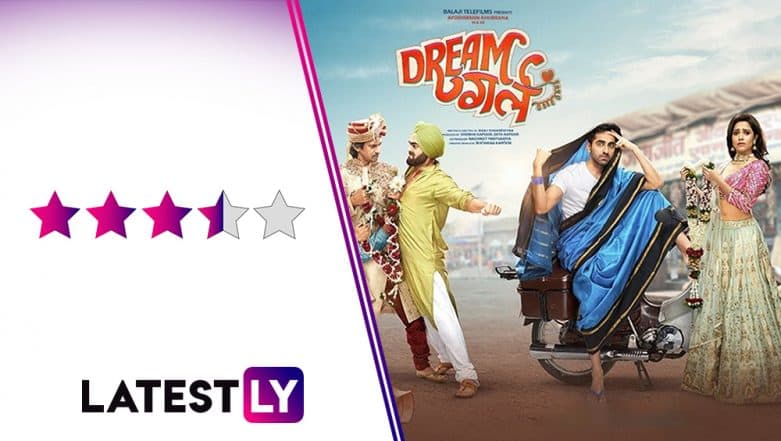 Dream Girl Movie Review: While I still have my reservations about Ayushmann Khurrana's National Award win for AndhaDhun (the man is brilliant there, but not exactly NA-worthy), his script sense deserves an Oscar. His latest, Dream Girl, is yet another rollicking entertainer that is bound to win over the box office. Just like his last few films. Dream Girl is not exactly defect-proof, but my God! I hadn't laughed so much watching a Hindi film in recent times, that too, with the film, and not at it! Khurrana, director Raaj Shaandilya and a fabulous cast have delivered a rollicking laugh-a-ton with Dream Girl. Ayushmann Khurrana Calls Wife Tahira Kashyap His Dream Girl As They Pose Together (View Pic).
Karam (Ayushmann Khurrana) can mimic a fine female voice since he was a kid. This ability of his got him stuck to playing the main female lead in mythological plays in his town in Haryana. Even as a grown-up, Karam is relegated to playing Sita and Draupadi, much to the chagrin of his widower father (Annu Kapoor). His special skill comes to use when he gets a job as an operator at a 'friendship call center', run by a shrewd businessman (Rajesh Sharma), something he hides from his family.
Karam becomes an instant hit at his job, enticing many lonely hearts with his seductive 'Pooja' persona, and making the owner richer. Some of his frequent callers include a shayari-spouting constable (Vijay Raaz), a brash youngster (Raj Bhansali) and a man-hating magazine editor (Nidhi Bisht). While Karam finds himself in a well-settled situation, he also falls for and gets engaged to a feisty Mahi (Nushrat Bharucha).
Trouble arrives when his dual lives almost threaten to collide with each other. Enamoured with his voice and way of talking, his telephonic 'lovers' now want to marry him, which also includes his future brother-in-law (Abhishek Banerjee). And also someone Karam never expected would have fallen for 'Pooja'.
The premise, as you can read from above, is whimsical and has potential to create a lot of laughs. Dream Girl recalls the golden light-hearted films of the '80, featuring Amol Palekar, like Gol Maal and Choti Si Baat. Raaj Shaandilya, in his directorial debut, has chosen a very audience-friendly treatment, and yet not going overboard by creating forced gags. There are many moments in the film that are bound to capture you in rapturous laughter. Most of Dream Girl's most amusing scenes involve Khurrana, Kapoor and Raaz, all in top form. While Vijay Raaz gets more scope in the first half, Annu Kapoor steals the show in the second half.
The screenplay is not exactly free from flaws. The second half feels looser compared to an extremely jocular first half. The climax is very average, and also becomes preachy and sentimental, as Karam goes monologuing about how loneliness is what makes people crave for 'Pooja', instead of find 'Pooja' in their house. The placement of the "Radhe Radhe" song just before the climax also stretches the narrative, that could have easily wrapped within two hours. The Kapil Sharma Show: Ayushmann Khurrana Reveals There Are No Kissing Scenes in Dream Girl!
The romance between Mahi and Karam doesn't add much to plot, more so because Mahi only becomes an integral part of the mess her fiance made, much later in the movie.
But even in Dream Girl's most okayish scenes, what sparkles the most are the razor-sharp humour-laden dialogues (Raaj Shaandilya). Almost every scene will have one quip that will make you applaud at the displayable wittiness. Shaandilya, sometimes, doesn't even need dialogues to make an amusing point. Like, in a scene where, after Mahi has a tiff with Karam, the slogan behind her rickshaw reads 'Hum Aapke Hain Kaun'.
Watch the trailer of Dream Girl below:
With Dream Girl, Raaj Shaandilya should find himself among the pick of choices of filmmakers for Bollywood stars. Surprisingly, the music of the film is very lacklustre, considering Khurrana's movies usually have good songs.
The Performances
Every actor in Dream Girl are on top-notch form. Ayushmann Khurrana's purple patch continues to stretch, as the actor generates another audience-winning act, falling in the same vein of his performances in Badhaai Ho, Bareilly Ki Barfi and Shubh Mangal Saavdhaan. It is a delight to watch the many animated expressions of the actor as he turns Pooja, especially in the song "Dil Ka Telephone". I just hope that law of averages also turn out to be a fan of Ayushmann and continues to smile at his antics.
Reuniting with him is his Vicky Donor co-star Annu Kapoor, who is in fabulous form here. The second half is where Kapoor excels in displaying his comic histrionics, bringing the house, especially his makeover scene, the 'Jagjit Singh night' sequence, and when he renovates his house. Vijay Raaz is terrific as the cop looking to find a romantic solace outside his bitter 10-year marriage.
Nushrat Bharucha, while good at what she has been given, feels almost lost in the mad proceedings till the third act. It is less the actress' fault and more to do with the fact that Dream Girl had a hard time figuring out what to do with an actual girl in the cast. Manjot Singh lends able support as Karam's liquor-shop-owning bestie, Smiley. Abhishek Banerjee, Nidhi Bisht, Raj Bhansali give credible performances. Also a special mention for the actresses who play the cop's angry wife and Mahi's daadi.
Yay!
- Ayushmann Khurrana
- The Supporting Cast, Especially Raaz and Kapoor
- The Dialogues
- The Humorous Situations
Nay!
- Female Lead Feels Inconsequential
- The Second Half Feels Looser
- The Climax is Average and Needlessly Preachy
Final Thoughts
Dream Girl becomes what it promises to be - a hilarious entertainer, and perhaps, the funniest Bollywood film in recent times. The actors are all well-cast and lend fantastic performances, especially Ayushmann Khurrana, Vijay Raaz and Annu Kapoor. With the audiences lapping up small-town based comedies and Khurrana's brand of cinema (it is a genre in itself), there will be no stopping Dream Girl from having a 'dream' run at the box office.