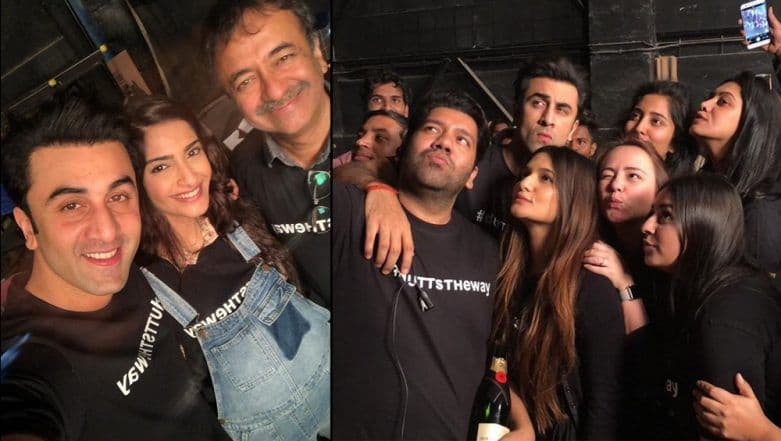 Ranbir Kapoor's film on actor Sanjay Dutt is ready to enthrall us. Although there have been no posters or teasers out, the 'leaked' pictures of a bulked-up Ranbir was more than enough for us to measure the magnitude of this Rajkumar Hirani flick. The cast of this film tentatively titled as 'Dutt Biopic' had a wrap up celebration and it was full of positivity and zeal. The actors were seen partying hard with a champagne, cake and customized black tees with a cool caption  '#DuttsTheWay.' The Kapoor guy was seen with Rajkumar Hirani and Sonam Kapoor in one of the snaps.
It was a grand celebration indeed and what people adored much was Ranbir- Sonam's reunion straight after their debut film together 'Saawariya'. Many members who will be seen in the movie were missing though. The cast of this biopic also includes Anushka Sharma, Paresh Rawal, Dia Mirza, Karishma Tanna, Manisha Koirala, Vicky Kaushal in major roles. Also, reports have been floating that the flick may be named as 'Sanju' which is the popular nick- name for the Munnabhai actor. Hirani who has worked closely with Sanjay Dutt and also his dad Sunil Dutt is excited to fit-in his real life through this mega project.
And it's a wrap 🎬 for the team behind #DuttBiopic! All set for the release on #June29, save the date! #DuttsTheWay#RanbirKapoor @sonamakapoor @RajkumarHirani #VidhuVinodChopra pic.twitter.com/gQwgSYbXvB

— Fox Star Hindi (@foxstarhindi) January 22, 2018
2️⃣9️⃣0️⃣6️⃣2️⃣0️⃣1️⃣8️⃣ They're coming for you 👊🏻 #Duttbiopic pic.twitter.com/pLT85eA6QR

— RanbirKapoor.Net (@RanbirKapoorFC) January 21, 2018
More from Sonam's Instagram stories #Duttbiopic #RanbirKapoor pic.twitter.com/FEzhy11iPT

— RanbirKapoor.Net (@RanbirKapoorFC) January 21, 2018
Selfie with Ranbir, Sonam and Rajkumar Hirani 😍 #Duttbiopic pic.twitter.com/GdJZpdh7Bm

— RanbirKapoor.Net (@RanbirKapoorFC) January 21, 2018
#Duttbiopic Ranbir Kapoor, Sonam Kapoor and Rajkumar Hirani on set today pic.twitter.com/UvauTQK8Cu

— RanbirKapoor.Net (@RanbirKapoorFC) January 21, 2018
Dia Mirza who will reportedly essay the role of Sanjay's wife Maanyata Dutt, earlier said in an interview, "To be a part of a biopic and essay the life of a real person and to experience the circumstances that they've lived in is everything an actor could ever ask for." This chronicle on Sanju baba's life will be released on June 29, 2018. How excited are you?