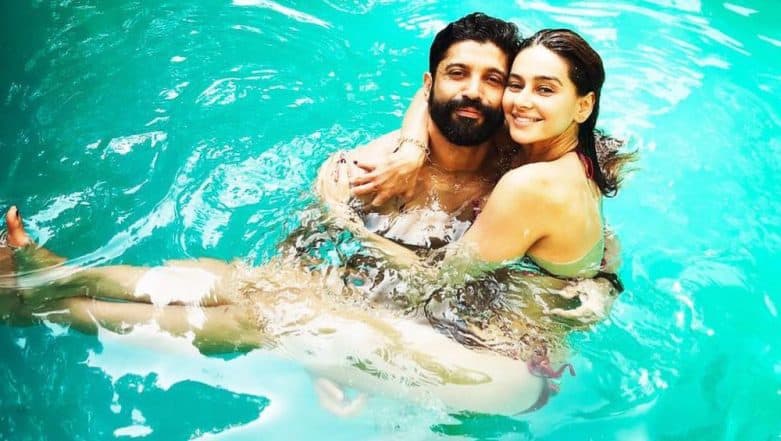 Are wedding bells going to ring for Farhan Akhtar and Shibani Dandekar? Well, that continues to remain a mystery! Recently when Farhan was quizzed about rumours of getting married to Shibani in April, the actor had a rather witty and smart reply to give. Shibani Dandekar on Her Relationship with Farhan Akhtar: We Are Not Going to Hide or Announce Anything.
It so happened that on the second episode of Tapecast 2, Farhan made fun of the media and laughed off the marriage rumours. Probing further, Bhumi Pednekar asked, "Are there any?" and Farhan jokingly replied saying, "In April, we May" Ah! Well, we got the hint there. Was he talking about getting hitched to Shibani in May? That's what it looks like! Or maybe he is just being his usual funny, sarcastic self. We don't really know but we are sure once the date is finalised the couple will announce it to the world. Considering how transparent and open they have been about the love affair, we are sure that they will let out the wedding dates too, if in case the wedding is n cards, that is! Farhan Akhtar Is Posting Cute Pictures with Girlfriend Shibani Dandekar Like a College Kid.
Farhan and Shibani recently completed a year of togetherness and took to social media to celebrate their one year anniversary in a tad bit different way. They shared a photo with each other and captioned it as "Three six five" hinting at completing 365 days together. Though fans had a tough time deciphering it, they eventually understood the same. Anyway, apart from them, there are rumours that Malaika Arora and Arjun Kapoor might also tie the knot some time this year. Are you already excited for the shaadi season to begin again? We know we are.