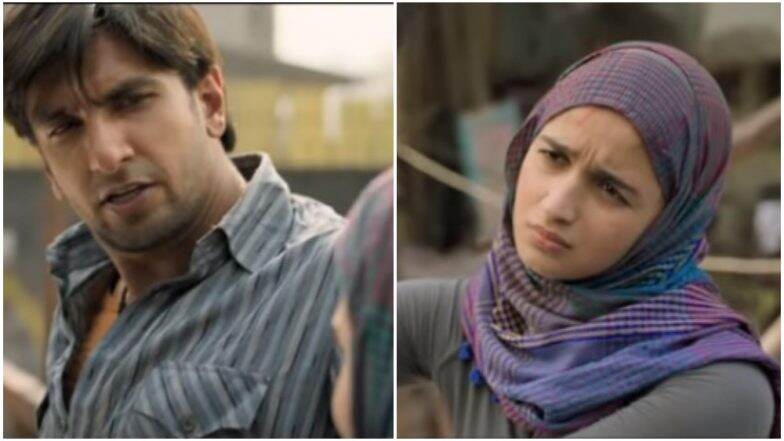 One of the most anticipated releases of the year Gully Boy is finally here! Yes, Zoya Akhtar's film starring Ranveer Singh and Alia Bhatt, has hit the silver screens today (February 14) and it is expected to set the cash counters ringing on its opening day. From theme, catchy music to Ranveer-Alia's on-screen charm, the film is just making the right buzz, ever since it has been announced. Just yesterday, the makers of the film held a special screening in Mumbai and it was attended by many celebs including Deepika Padukone, Ranbir Kapoor, Ananya Panday, Dia Mirza, Kiran Rao, Jim Sarbh, Kubbra Sait and Ali Fazal. Gully Boy Movie Review: Ranveer Singh and Alia Bhatt Are Bloody Brilliant in Zoya Akhtar's Finest Work to Date!
Talking about the movie, our in-house film critic Sreeju Sudhakaran wrote in his review, "If I had to put a personal thought here, Gully Boy made a non-fan of rap music in me cheer for nearly every song, that's how good the movie is! This is Zoya Akhtar's best work as a director, complemented by brilliant performances from the cast, especially Ranveer, Alia and Siddhant. By the time, Murad raps to "Apna Time Aayega", we feel assured as a viewer in knowing that our time of watching a good mainstream movie has also arrived!"
Well, let's take a look at what other critics have to say about the film!
NDTV (3/5): In an era of which Bollywood is increasingly passing off pulpy apologies for demagoguery for cinema, Gully Boy could have been a fitting riposte. It just doesn't go far enough to pose discomfiting questions in keeping with the art of the street rapper. But all said and done, Gully Boy can be whole-heartedly commended for its craft, fascinating characters and RANVEER SINGH. He absolutely kills the slow-burning rapper act. What's more, he does with a lot of energy to spare
Times Of India (4/5): The movie is inspired by the lives of rappers Naezy and Divine, and these Indian aristes, along with a whole host of their contemporaries, have scored a super soundtrack for the film. There's a reason the film feels legit and that's down to the fact that real rap artistes worked on this film. The treatment and the visual finesse of the film are at par with anything you've seen from Hollywood or anywhere around the world. The rap battles shown in the film are riveting and an inspired piece of writing. The problem with the film though is it's length, which stretches to two-and-a-half hours, but the emotional deftness and clap-worth dialogues add the right amount of gusto and keep you totally engaged. This is a film that deserves an encore. And in true rap style, let's just say… Yeh Gully Boy hard hai bhai!
India Today (3/5): Gully Boy suffers from a slow pace. The film takes its own sweet time to establish the story. And when it does, there is too little to bask in the glory of. The film ends on an abrupt note. It catapults its underdog to the big stage but doesn't let the viewer soak it in. After investing 2 hours and 35 minutes in the film, you feel a little cheated. In all, it fails to rise. Apna time aayega. But today is not the day. Gully Boy starring Ranveer Singh and Alia Bhatt is the big Bollywood release today. Ranveer and Alia put up compelling performances but the Zoya Akhtar-directed film offers only an outside view of the Mumbai slum-life.
Scroll.in: All departments snap into place in Gully Boy right from the opening shot, which follows a key character on the move. Jay Oza's camera rarely pauses, whirling around the characters and swooping in and out of diverse locations to create palpable momentum and energy. This is the kind of movie in which the technical credits matter as much as the writing and the performances. Shout-outs are due to editor Nitin Baid, production designer Suzanne Caplan Merwanji, and music producer Ankur Tewari, all of whom work in tandem with Akhtar and Kagti to create a vivid audio-visual experience.
Hindustan Times (4/5): Gully Boy starts with a scratch sound and ends with a cut to silence, and in between holds voices that cannot be unheard.
Deccan Chronicle (3/5): The film gives us a fascinating glimpse into a subculture that many of us have formerly viewed only from the outside. Especially intriguing are the 'hip-hop battles', wherein rappers come on stage and challenge one another to perform spontaneous mutual put-downs, with the audience getting to determine the contest's winner. The ending is predictable but still you wait there hoping that just maybe the film will surprise you along the way. At the end, Gully Boy is not perfect, but definitely it's own thing with some good moments. And when they're good, they're really good.
Pinkvilla (4/5): Zoya Akhtar along with Reema Kagti has presented a script which shines and stays true to the streets. There are many familiar elements picked up from real life instances (Eminem's 8 Mile!) but the scripts holds its own. The well written script was backed by clap worthy dialogues by Vijay Maurya. Zoya does what many in the industry wouldn't dare to. Her movie is a social commentary on the class difference, political facade, and the minorities. Topics which Bollywood has for years underplayed in mainstream commercial cinema.
Also, Watch Gully Boy Movie Review Video Here:
Helmed by Zoya Akhtar and bankrolled by Farhan Akhtar and Ritesh Sidhwani's Excel Entertainment, the film is an upcoming musical drama, where will be seen portraying the role of the Mumbai street rapper and the actor has been prepping hard to step into his character.