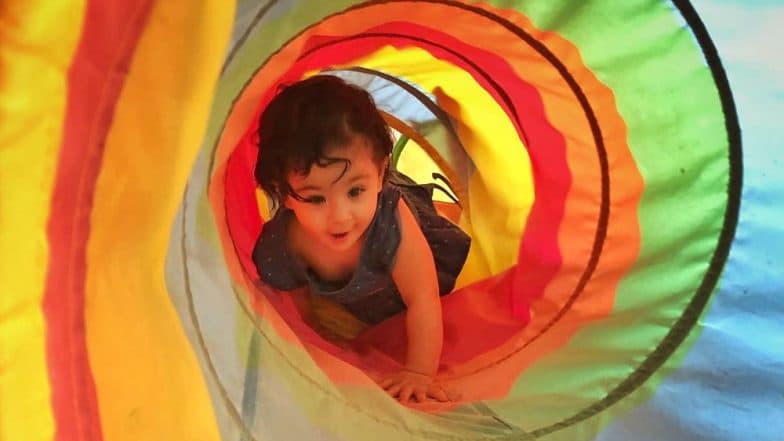 Guess what? The paparazzi got it's first ever 'Hi' from the one and only Inaaya Naumi Kemmu! Looks like Taimur Ali Khan is rubbing off on Inaaya. It so happened that Soha Ali Khan, along with her daughter Inaaya stepped out today and like always, the mother- daughter duo was surrounded by the media all around. Usually Inaaya is awestruck every time she sees the paps around but now, she seems to be taking cues from her bade bhaiya Taimur. She waved at the paparazzi as her mommy posed in front of the shutterbugs holding her hand. Clearly, our Saturday is made!  Taimur Ali Khan Greets Paparazzi with a 'Hi' Again and We are Going 'Haaye' – View Pics.
Inaaya is one of the most adorable starkids we have in B-Town and with the craze around them getting crazier, looks like Inaaya will be the next internet sensation after baby Tim. Talking about the pressure starkids have to go through, her mommy Soha had earlier said in an interview, "We understand public scrutiny is part of the job but that is a call we took for ourselves not our children, so it doesn't seem fair for them to be exposed to the media glare." "I honestly think it's too much especially for Taimur. It's all normal for him but childhood is about innocence and he shouldn't be robbed of that. He has a right to his privacy and that needs to be respected by the media," the actress added further. Taimur Ali Khan, Inaaya Naumi Kemmu and Nisha Kaur Weber Try To Dance at Kids' Party as Kareena Kapoor Khan Lovingly Watches Them! (Watch Videos).
Check out the video here-
View this post on Instagram
Motherhood has left a special impact on Soha. Speaking about it, she was quoted by a daily earlier saying, "Inaaya has made me evolve as a person - my world has changed forever and my priorities have changed. She is now the focus and everything else comes after her. I have never been around children growing up as I am the youngest in my family so I have never really had to care for anyone else until now," stated Soha. "It teaches you responsibility and humility. It's the most awe-inspiring feeling to be a mother. I love it and I am often overwhelmed by it too but there's no going back and there's no wanting to go back either," she added further.