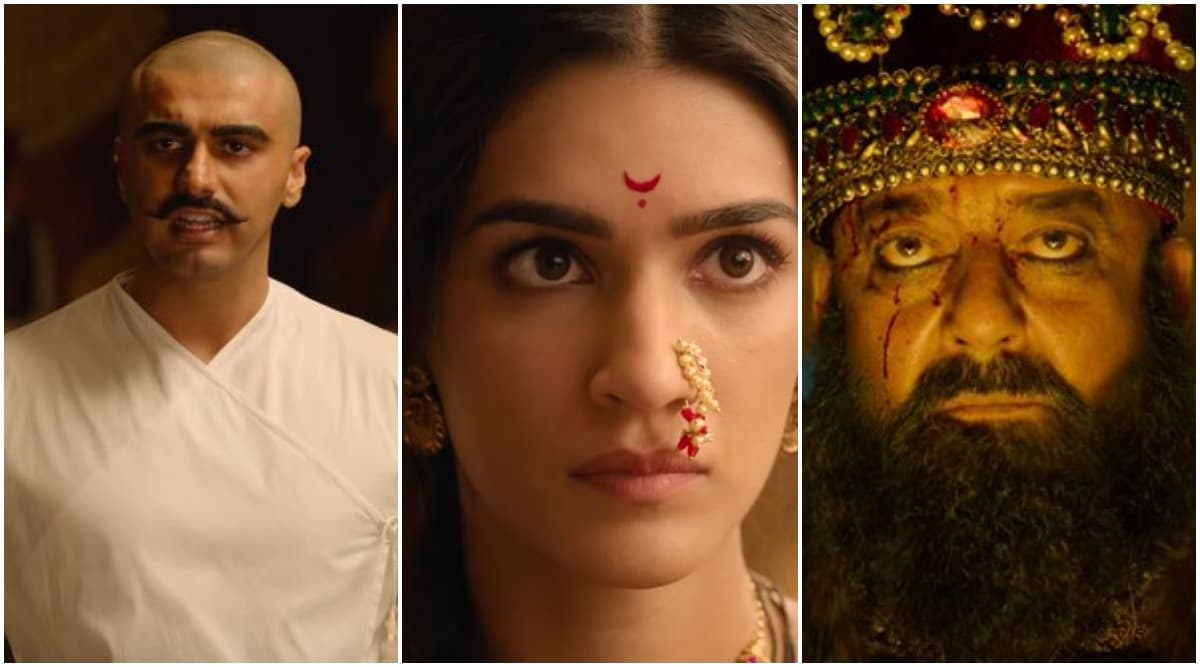 The trailer of Panipat starring Arjun Kapoor, Kriti Sanon and Sanjay Dutt in the lead was dropped online today. It was a visual spectacle with some great performances by the lead cast. Arjun Kapoor as Sadashiv Rao Bhau, Kriti Sanon as Parvati Bai and Sanjay Dutt as Ahmad Shah Abdali have left everyone impressed. Panipat, directed by Ashutosh Gowariker, looks promising. Although the trailer of this historical period drama has opened to positive responses, it has provided enough fodder for Twitterati to make funny memes and jokes on this upcoming flick. Panipat: Here's How Arjun Kapoor's Sadashiv Rao Bhau Is Related to Ranveer Singh, Priyanka Chopra's Characters in Bajirao Mastani.
The chants "Har Har Mahadev", glimpses of warfare between the Maratha Empire and the Durrani Empire, background score, hard-hitting dialogues, every factor will keep hooked. But netizens just could not stop themselves from making funny jokes and memes around the battle sequences and other aspects from this trailer. But before you go through the memes and jokes, take a look at the impressive trailer once again. Panipat Trailer: Arjun Kapoor As Sadavshiv Rao Bhau and Sanjay Dutt As Ahmad Shah Abdali Take You an Epic War Journey Like Never Before (Watch Video).
Watch Panipat Trailer Below:
Panipat Funny Memes and Jokes
The Desi Vibes
Indian relatives be like: pic.twitter.com/UinjbIcl9B

— Vasudha (@WordsSlay) November 5, 2019
Attention, Please!
Pic1- Parvati bai fighting

Pic2- woman behind chhamak Challo 😂😂😂 #PanipatTrailer pic.twitter.com/8XSvByks53

— Priyaranjan (@Priyaranjan118) November 5, 2019
BASIC
Me to coffee #PanipatTrailer pic.twitter.com/83zWIrkgPP

— Vraj Patel (@___vraj___) November 5, 2019
Oops...!
Pic 1: Me in First year of college

Pic 2: Me in Final year of college#PanipatTrailer pic.twitter.com/A5UNh2PxL4

— Pulkit (@voxxpopli) November 5, 2019
The Nation Wants To Know
After watching Bajirao Mastani, Padmaavat and #PanipatTrailer.#Panipat pic.twitter.com/oh28YkjhSB

— Ritesh Surana (@SuranaRitesh) November 5, 2019
LOL
When you ride a bike without helmet

Traffic police: pic.twitter.com/JbJsAxGua1

— Sumit jadhav (@Ekdum_Jhakaasss) November 5, 2019
Errr...Couldn't Get Away
#PanipatTrailer India's entry to Oscars for Best VFX? pic.twitter.com/mGpDHkCyYZ

— Shahid's SuperFan© (@ShahidsSuperFan) November 5, 2019
Aren't these memes a laugh riot? Coming back to the film, Panipat also stars Padmini Kolhapure, Zeenat Aman, Mohnish Bahl and Suhasini Mulay in key roles. Ashutosh Gowariker is known to helm films such as Lagaan, Swades and Jodhaa Akbar among others. Hence the expectation from the magnum opus Panipat is sky-high. The film is all set to be released on December 6.