Ever since Deepika Padukone and Ranveer Singh's wedding date has been confirmed, everybody is asking about the most valid question. This query has troubled our minds as well. When is Priyanka Chopra tying the knot? We have seen the celebrations post the ring exchange ceremony. But when is the former Miss World turned Bollywood Babe turned Hollywood's hottie is getting married? Or is she already married and hiding the fact from the fans, we wonder! Her Fiance Nick Jonas is equally a big celebrity that Pee Cee's marriage can't be kept as a desperately guarded secret!
One look at this picture and you will know why there's so much noise around PeeCee's wedding. The drama was sparked by the latest Instagram photo shared by Irish filmmaker Emmett Hughes. The said visual shows Nick Jonas and Priyanka posing with actor Ashley Benson. Parineeti Chopra Believes Nick Jonas Is the Right Person for Priyanka Chopra; Says Their Wedding Is Going to Be a Huge Event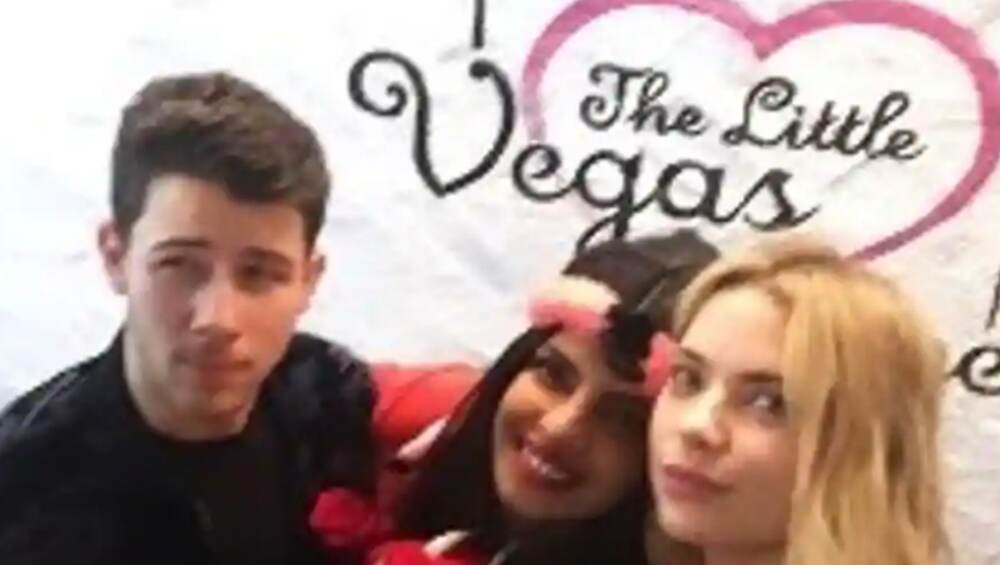 The picture features Priyanka standing between Nick Jonas and Ashley with red flowers in her hands and a tiara on her head. Scribbled behind are the words: The Little Vegas Chapel. Now is this an indication or Piggy Chops is keeping things under the wraps!
Priyanka and Nick have picked Umedh Bhavan in Jodhpur as their wedding destination and the singer's recent India visit was to finalise the same. We have already informed you that the duo will have a limited guest list of 200 people with only their close friends and family in attendance. Since a lot of their Hollywood friends are settled in New York, PC is quite excited to have her bridal shower there followed by a grand wedding in Jodhpur. So fan! Just calm down a bit the real event is yet to unroll!