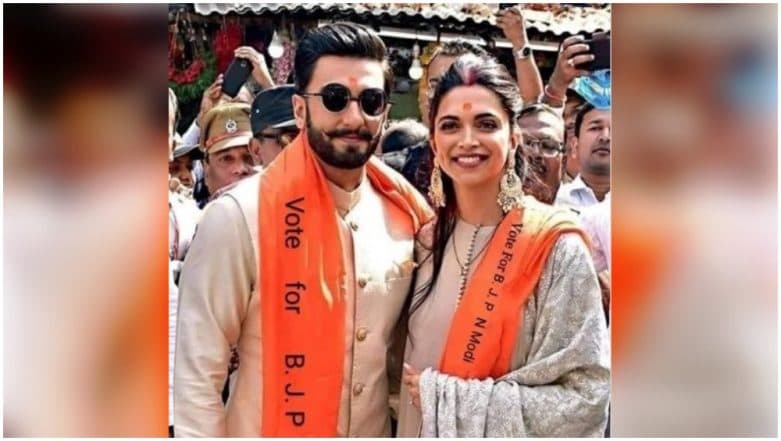 Are Ranveer Singh and Deepika Padukone Modi-Bhakts? Certain pictures are going viral on WhatsApp, Facebook and Twitter that have the power couple standing in front of the crowd, wearing orange scarves. As you know, orange is the official colour of the Bharatiya Janta Party that is currently in the government. What's more, these orange scarves have the inscription 'Vote for BJP'. These pictures are being circulated by the certain BJP followers saying that Ranveer and Deepika are campaigning for BJP in the 2019 Lok Sabha Elections. Ranveer Singh Sets the Countdown for the Release of Kabir Khan's '83 and it's Exactly a Year Away.
The truth, however, is far from that! Fact checker website, AltNews dissected the above photograph and revealed that it is actually photoshopped. In fact, everything about the picture is right - the stars, the crowd behind them, the clothes and scarves. Save for one thing - the caption is not there.
That's the one part that has been inserted in the original picture, which you can see below: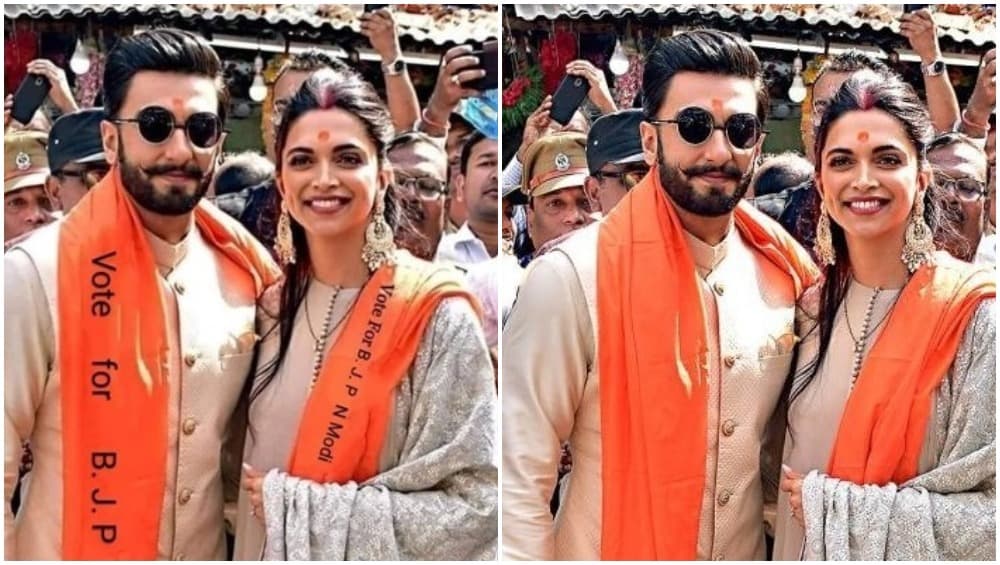 Vote for BJP. Proud of you Ranvirsingh and Deepika pic.twitter.com/oSbbTMutlk— चौकीदार#Jagadish.Shah.10 (@Jagadish_100) April 11, 2019
As per Altnews, the actual picture was taken on November 28, 2018, outside Siddhivinayak temple, Mumbai. Which, you know, is not anywhere around the election date. Deepika Padukone Is Least Bothered About Diet, Ranveer Singh's Comment Is Proof (View Post).
Even if you are not aware of the original picture, you should have guessed the story was false especially if you are a fan of DeepVeer. While Ranveer was the part of Karan Johar's selfie brigade with PM Narendra Modi, Deepika Padukone was not there in the picture. Sources say that she is still unhappy about the lack of support she got from the government when the Karni Sena was issuing threats to her over Padmaavat. Also, Deepika was one of the few celebs who didn't revert to PM's tagged tweets asking celebs to encourage their fans to vote.
Fact check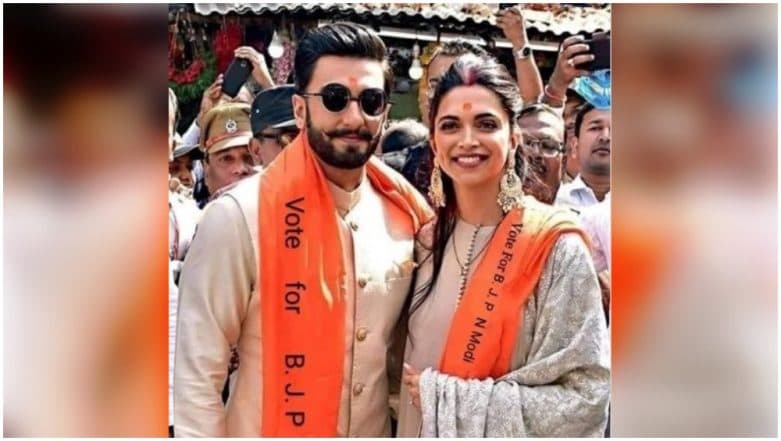 Claim :
Pic of Ranveer Singh-Deepika Padukone campaigning for BJP in Lok Sabha Elections 2019
Conclusion :
The picture of Ranveer Singh-Deepika Padukone has been photoshopped.