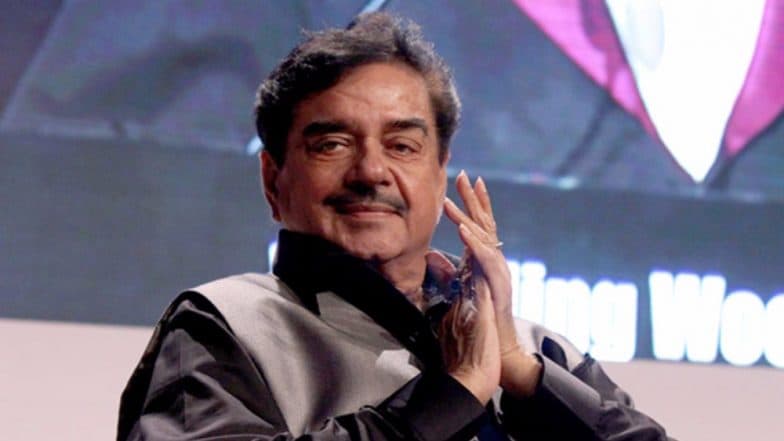 Shatrughan Sinha doesn't know how to mince his words and he is quite vocal about what he feels and why he feels. He even believes that gone are the days when we used to credit a woman behind every man's success. Today, the same saying holds true but for his debacle. "Today is the time of #MeToo, and there shouldn't be any shame or hesitation to say that behind a successful man's fall is a woman. Behind the troubles and infamy of successful men, there have been mostly women that I've seen in this movement," he said at the launch of the book A Touch of Evil by author Dhruv Somani. Is that a bit harsh on his part? We think so. #MeToo Movement: Shatrughan Sinha Feels Blacklisting the Accused Is Hypocrisy, Targets Sanjay Dutt Who Was Convicted Yet Allowed to Work.
Going ahead, he decided to give a comical twist to the entire controversy which we felt was unnecessary and so not right. While women were busy naming the accused in the entire #MeToo episode, he considers himself fortunate enough since his name wasn't highlighted for the same. "I really call myself fortunate that in today's times, tamam harkate karne kay bawajood (despite everything that I've done), my name hasn't come out in the #MeToo movement. Hence, I listen to my wife and often take her as a shield with me so that even if there's nothing, I can show, 'I am happily married, my life is good.'" he said. Of course, he was coming from a good place but his views and statements may take an ugly turn very soon.
When the star did realise that his comments may raise some concern, he clarified saying it was a simple joke. "Don't take it otherwise. Please take it with a plain sense of humour. I highly appreciate and applaud the women, who, better late than never, have come forward... I salute their courage and guts. But beyond that, I don't want to go further at this hour because it's a book launch event and we should not cross our limits. But having said this, I understand what you are saying and I am highly supportive of what you said." Shatrughan Sinha DEFENDS Saroj Khan's Casting Couch Comment; Says 'What is There to get so Upset About?'.
Earlier in his interaction with IANS, Sinha had raised concerns for the same movement as she believed it was blown out of proportion. When the veteran director, Subhash Ghai was accused of sexual misconduct, he revealed he would still work with him if he's proved guilty and served a punishment.