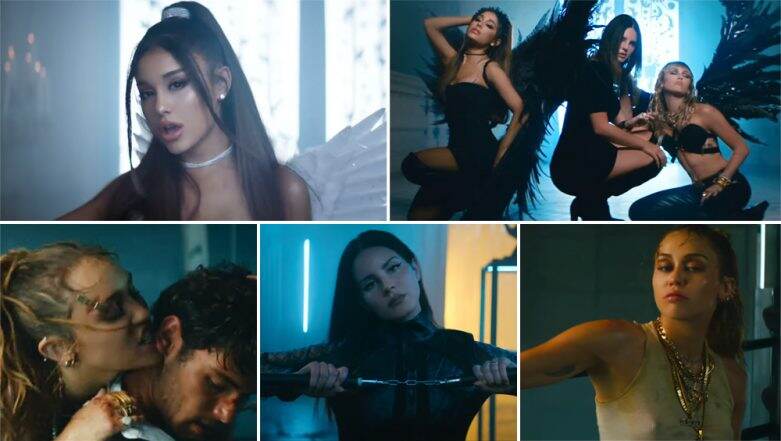 One of the greatest gifts for pop music fans is here. Three amazingly talented artists, Ariana Grande, Miley Cyrus and Lana Del Rey have collaborated for a song and we can't keep calm. "Don't Call Me Angel" is a special track which Grande co-executive produced for the forthcoming Charlie's Angels reboot starring Kristen Stewart, Naomi Scott and Ella Balinska. Given that Grande, Cyrus and Del Rey are massive stars in their own capacities, them coming together is sure to make this track hit the No 1 on charts at the earliest. This is the first time all three women have collaborated with each other on an original song. Yo or Hell No! Miley Cyrus in Tom Ford From Head to Toe for the New York Fashion Week.
The "Don't Call Me Angel" video has been directed by Hannah Lux Davis. It features the trio in racy outfits along with black angel wings suggesting that they're not the 'sweet angels'. The video feature Cyrus in a boxing ring with a guy tied up to a chair. We see her hit him hard as she sings, "I make my own money/And I write my own checks. So say my name with a little respect." Lana Del Rey looks irresistible in her solo part of the song as she beautifully croons, "You can't get me off your mind/I appreciate the way you want me, I ain't gonna lie."
Check Out the Song Video Here:
The track was previewed in one of the first trailers for the action film but this video is certainly going to get it a lot more attention than the film's trailer. Fans have loved the track and are raving about the amazing video. Here are some of the reactions on Twitter. Miley Cyrus and Rumoured GF Kaitlynn Carter Photographed Holding Hands at the 2019 MTV Video Music Awards After-Party in New York (View Pics).
The Holy Trinity:
.@ArianaGrande, @LanaDelRey & @MileyCyrus interacting in their #DontCallmeAngel video is everything! 👼😭 pic.twitter.com/xVGUMOjbtQ

— Music News Facts (@musicnewsfact) September 13, 2019
What Happens When Talented Women Come Together?
can we just appreciate how this beautifully talented women just united themselves to make a song like this? they deserve so much a #1 and is what we gonna give them #DontCallMeAngel #DontCallMeAngelTonight pic.twitter.com/CgvWl2HhYf

— mateus (@yalloves) September 13, 2019
Here's to Girl Power!
i don't think i've ever seen this much girl power in one video for a very long time. #dontcallmeangel 👼 pic.twitter.com/mIt9wooC2G

— hailey (@ag5leaks1) September 13, 2019
Charlie's Angels stars Kristen Stewart, Naomi Scott and Ella Balinska as the titular angels while Elisabeth Banks stars in the role of Bosley. Banks has also written and directed the reboot. The film is all set to hit theatres on November 15th.