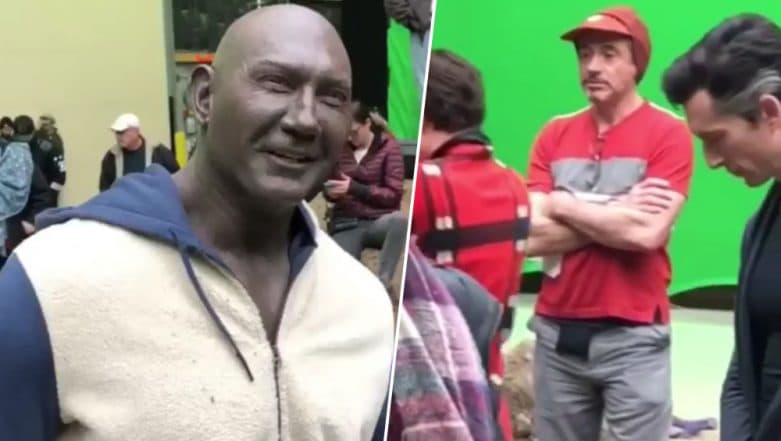 Avengers: Endgame has finally hit the screens after much wait and Marvel fans all over are going crazy over this superhero treat. The film being the final one in the Avengers franchise has got everyone emotional and if that was any less, the film's storyline too has a lot of tear-jerker moments. In the midst of all this emotional trauma, actor Chris Pratt who plays the role of Star-Lord aka Peter Quill in the film has posted a fun and really 'illegal' video from the sets of the film. The behind-the-scenes video features all of our favourite superheroes. Chris is heard saying in the video, "This is a really illegal video," to which Chris Evans jokingly replied, "Big trouble!"Box Office Milestones Achieved by Avengers: Endgame After Witnessing a HISTORIC Opening Weekend.
The video features everyone including Robert Downey Jr, Tom Holland, Chris Evans, Chris Hemsworth, Jeremy Renner, Paul Rudd, Mark Ruffalo, Don Cheadle, Sebastian Stan, Chadwick Boseman, Benedict Cumberbatch, Elisabeth Olsen, Karen Gillan, Zoe Saldana, Dave Bautista, Danai Gurira, Pom Klementieff and Sean Gunn.
Sharing the video on his Instagram, Pratt wrote, " I remember being blown away in this moment on the @avengers set. Nobody was allowed to film anything on their phones. I said screw it. No rule was going to stop me from seizing this once in a lifetime opportunity to capture this collection of stars, a group that likely will never be in the same room again. We are so blessed."
Take a look at the video here:
If you weren't already emotional after watching the film, this video is sure to break you into soft sobs. Just like Chris says in his caption, it is unlikely that all these actors will ever come in one single frame again and it surely is a delight to watch them. What's funny is that the same video was later reposted by Sean Gunn who wrote, "I'm Sean Gunn and I approve this message."Avengers EndGame Box Office: 5 Major Global Records the Marvel Film Broke As It Made $1.2 Billion In its Opening Weekend!
Avengers: Endgame is currently crushing box office records worldwide. The film has already managed to cross the 150 crore mark in India over its first weekend itself.