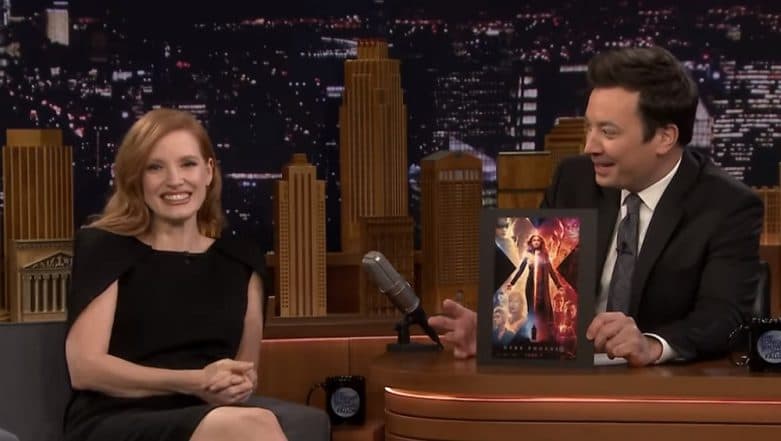 An explosive teaser of X-Men: Dark Phoenix took over the morning. The fiery new trailer not just gives an insight on what to expect from Jean Grey as Phoenix but also gives a peek at the new villain. Jessica Chastain, a shapeshifting extraterrestrial who goes by the name Smith in the film, is seen planting seeds of malevolence in Jean Grey's ears while the young superhero is trying to understand more about herself.
In the trailer, the background voiceover as Chastain tell Grey, "Jean, you're special. And if you stop fighting that force inside you, you will possess the very power of a god," while a montage of clips with Jean's body being possessed by evil forces is showcased. "Are you a scared little girl who answers to man in a chair?" Smith continues as a shot of Professor X, played by James McAvoy, is shown. "Or are you the most powerful creature on the planet?" concludes Smith as a glowing Jean Grey levitates in plain sight.
While we did get a peek at a lot of what to expect from the latest X-Men film, there's hardly anything we know about Chastain's role. Luckily though, on The Tonight's Show Starring Jimmy Fallon, Jessica Chastain appeared and gave more details on the role she is playing. She told Fallon, "I play this character from another world, and I come to Earth because miss Jean Grey has a power I want to harness for my own uses." Jessica also revealed that she got to beat a lot of X-Men during the course of the movie.
Jessica Chastain on The Tonight Show Starring Jimmy Fallon
Chastain also revealed, "I get to beat up a lot of X-Men in the movie, and maybe kill some?" and shrugged, "I didn't say I definitely do. Maybe someone lives, maybe someone dies? It's an intense movie." X-Men: Dark Phoenix stars Sophie Turner, Jessica Chastain, Jennifer Lawrence, James McAvoy, Michael Fassbender, Nicholas Hoult, Evan Peters and Tye Sheridan in pivotal roles. The film has been directed by Simon Kinberg and is set to release on June 7.