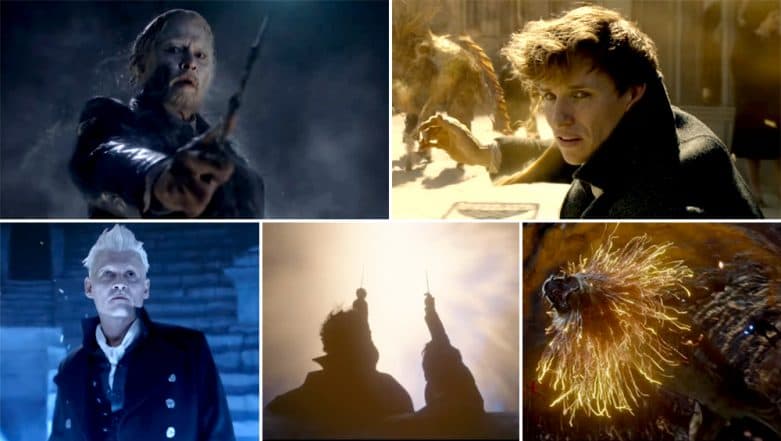 Sometimes, we wonder if the studios don't want the audience to have any surprises to enjoy when they watch a movie in the theatre. For most of them already get spoilt in the trailers. Remember how Terminator Genisys spoilt the biggest twist in its trailer (John Connor turns cyborg) and Jurassic World: Fallen Kingdom revealed most of its best scenes in the trailers? Well, Fantastic Beasts: The Crimes of Grindelwald, the sequel to the 2016 Harry Potter spin-off  Fantastic Beasts and Where to Find Them, has its new and final trailer revealed and it is filled with spoilers. Fantastic Beast: The Crimes of Grindelwald Comic-Con Trailer: Jude Law's Dumbledore Seeks Eddie Redmayne's Newt Scamander's Help to Challenge Johnny Depp's Grindelwald.
The biggest reveal was that Claudia Kim's character was Nagini, whom the Harry Potter fans would recognise as Lord Voldemort's serpent and his Horcrux that gets killed in the final battle of Hogwarts (by Neville Longbottom). We see her in human form as part of the circus troupe that Ezra Miller's Obscurus Credence Barebone is a part of. We also see Jude Law's young Albus Dumbledore reminiscing about his teenage love for Johnny Depp's Dark Wizard Gellert Grindelwald. Also, I am not sure of this, but did we also have a glimpse of the Department of Mysteries in the final moments of the trailer where Sirius Black had met his end in The Order of Phoenix? Not to mention, so many magical creatures! Did You Know Yuvraj Singh's Wife, Hazel Keech Was a Part of Three Harry Potter Movies?
Watch the final trailer of Fantastic Beasts: The Crimes of Grindelwald here -
Fantastic Beasts: The Crimes of Grindelwald brings back the lead cast of  Eddie Redmayne, Katherine Waterston, Dan Fogler and Alison Sudol, with Zoe Kravitz and Callum Turner also joining them. Fantastic Beasts: The Crimes of Grindelwald will release worldwide on November 16.