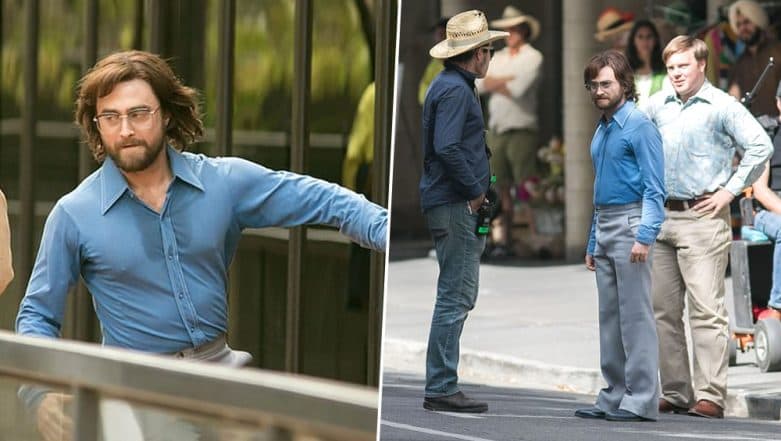 Daniel Radcliffe may just become the actor who will always be known first by his screen name thanks to his role as Harry Potter. After starring in eight films of the Harry Potter series, Radcliffe has been trying hard to take on projects that prove he's beyond the fictional magical world. Currently, the actor is shooting in Adelaide, Australia for his upcoming film Escape from Pretoria. Set in 1978, pre-apartheid era Daniel will be seen in the role of Tim Jenkin, the real-life white South African activist who was imprisoned on the brutal Pretoria Prison for working with the African National Congress. In a few photos that have now been posted all over social media, Daniel is seen in an unrecognizable look.
Sporting a blue buttoned shirt and grey trousers along with oversized glasses, Radcliffe's transformation has taken the fans by surprise. With his long hair and bearded look, the Swiss Army Man star is completely different from what we have seen so far. He has been in majority of his roles been seen as the boy-next-door and this is certainly a first. Daniel Radcliffe Says He Wouldn't Watch 'Harry Potter' Play As the Audiences Would Look at Him for His Reaction.
Take a look at the pictures from the sets of his film:
And some more 😁#DanielRadcliffe #escapefrompretoria pic.twitter.com/1zGhRgJjjG

— Danielradcliffesupportgermany (@Dansuppgermany) March 13, 2019
As soon as the pictures from the sets of the film started doing the rounds on social media, fans started reacting to his radical transformation and were even full of praises for him.
Here are a few fan reactions on Daniel Radcliffe's look:
20 Years in the Game and still Going Strong

Here's to the Upcoming 20 and Many More#DanielRadcliffe #miracleworkers pic.twitter.com/Ng77M3ny0l

— Dan_Lovers_For_Life (@evanescentDan) March 12, 2019
Get ready to see some broomsticks flying in #Adelaide as #DanielRadcliffe is here!

— Nagaraj Kaundinya (@nagarajprao) March 12, 2019
Ol' HP himself was filming on Pirie Street today (the street next to my work) so I strolled down in my lunch break to check out the set #DanielRadcliffe #Adelaide pic.twitter.com/jFAJygQQ7N

— Shawnee Mead (@ShawneeMead) March 13, 2019
The film has been directed by Francis Annan and also stars actors such as Mark Leonard Winter and Nathan Page in key roles. Radcliffe was last seen in Beast Upon Burden in 2018.