Priyanka Chopra and Nick Jonas are in no mood to let their fans breathe easy as they continue to spark romance rumours with frequent meetings or should we write 'romantic dates'. Yes, if you do not have an iota of a clue about the brewing romance between two highly successful and fashionable individuals, then it is time to change your present address – living under a rock! Priyanka who has always been tight-lipped about her boyfriends and relationships in the past seems to have started liking the idea of flaunting her new relationship. The 35-year-old Bollywood actress turned global icon has been photographed with handsome American singer-actor on numerous occasions, and the duo has made heads turn with their style statements. Both Priyanka and Nick are known for their style and now this rumoured couple is giving us major fashion goals as a pair! These pictures from their every date, casual meeting, family functions, candid moments are pure gold. Priyanka Chopra and Nick Jonas Age Difference Is on Everyone's Mind! How Old is Sexy Bharat Actress and Her Rumoured Boyfriend?
They first posed together at the Met Gala 2017 as both were wearing Ralph Lauren outfits. At Jimmy Kimmel's talk show, Priyanka revealed how the two decided to walk the red carpet together, "Yeah, we were on the same table and we already know each other. So, he was like 'Hey, you wanna go together?' And I was like yeah, OK, let's go together. It ended up working out." Cut to a year later, the alleged lovebirds are painting the town red without officially confirming to be an item. But their frequent spotting together strongly hints that Priyanka and Nick completely enjoy each other's company.
Take their most recent meeting as the 25-year-old is helping his gorgeous date step out of the car. He is being at his chivalrous best and we cannot blame our Desi Girl to be totally swept off her feet. From Priyanka joining Nick most likely his girlfriend at Nick's cousin's wedding to romantic meetings, here's a look at the pair's most romantic outings in public that make them such a paparazzi's delight.
1. Nick Jonas Getting Protective of His 'Special Friend'
2. Special Dinner Nights Never Looked So Dreamy
3. Priyanka Chopra and Nick Jonas Looking Too Stylish
4. Just Confirm You Two To Be Dating, Pleaseee!!
5. Jab Priyanka and Nick Met at the Met Gala!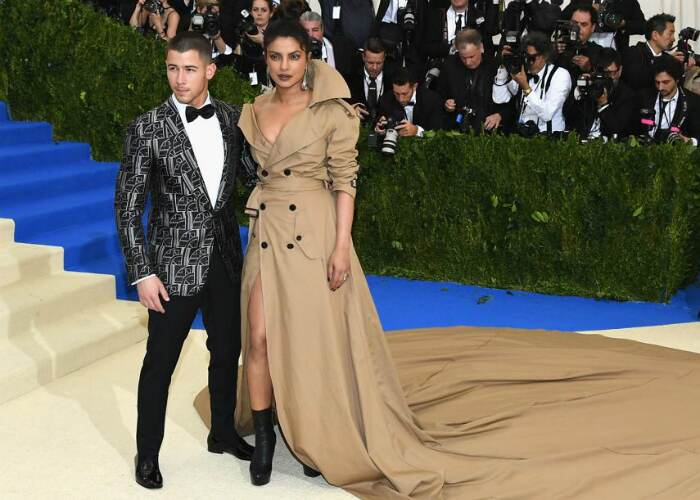 If this is not a proof of real romance, we do not know what is. There is no smoke without fire, and one sensed something was cooking between good-looking Peecee and Nick as they exchanged mushy comments on Instagram. In fact, the buzz about the two seeing is touted to be serious and not a passing affair. "It's a huge deal that Nick brought Priyanka to his cousin's wedding. He's dated a lot over the last couple years, but it's never been anything serious, so this is a big step," a source revealed to People.com. In the world of bitter breakups and ugly heartbreaks, we hope this relationship sees the 'Happily Ever After' phase.
(The above story first appeared on LatestLY on Jun 14, 2018 07:40 PM IST. For more news and updates on politics, world, sports, entertainment and lifestyle, log on to our website latestly.com).