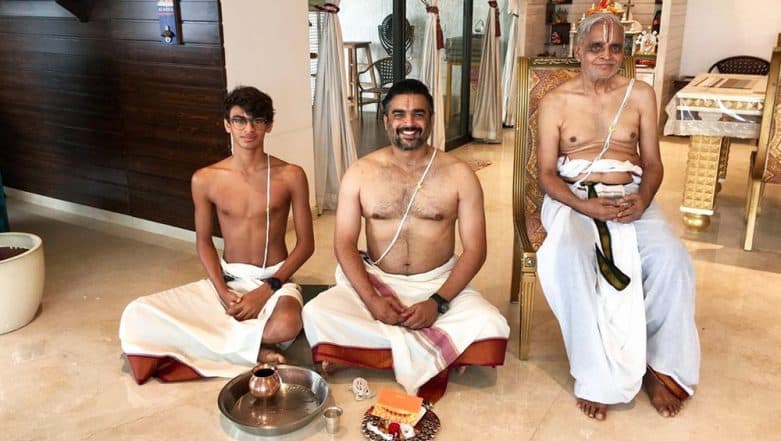 On August 15, R Madhavan posted a picture on his social media handle to wish his fans on the occasion of Independence Day, Raksha Bandhan and Avani Avittam. While sharing the picture he captioned, "Wish you all a very happy INDEPENDENCE DAY, RAKSHA BANDHAN AND AVANI AVITTAM. Prayers for peace and prosperity for ALL in this world continues." While his fans were happy to see him along with his father and his son, there were few who picked on him on his religious identity. One of the user name named JIXSA spotted a Crucifix (Holy Cross) at his home altar and slammed him, claiming the actor is a fake Hindu. But the actor's response over his religious belief has won netizens' hearts.
The user named JIXA tweeted, "Why do they have a across in the background?! Is that a Mandir? You just lost my respect. Do you find Hindu Gods in Christian churches? All this is fake drama you did today!" R Madhavan responded, "I really don't worry about respect from the likes of you. I hope you get well soon." He clarified, "My home is home to staff of all faiths and we pray at a common alter. Like any defense personal will tell you, happens in every unit." Madhavan also mentioned, "I have been taught from my very childhood to maintain my identity with pride but at the same time respect each and every faith, belief and region. 'YemmadhamumSammadham' (I respect each religion as my own). I hope my son follows that too."
The Picture That R Madhavan Posted
View this post on Instagram
Here's The Person Who Questioned R Madhavan's Faith
And Here's R Madhavan's Response
🙏🙏🙏 https://t.co/Imw3SqR2Zb pic.twitter.com/x79cX50aRn

— Ranganathan Madhavan (@ActorMadhavan) August 16, 2019
Well, that was indeed a clear-cut response from R Madhavan, shutting down all the trolls and unwanted doubts. On the work front, Madhavan is busy with his directorial debut, Rocketry: The Nambi Effect. Stay tuned for more updates from the world of entertainment.