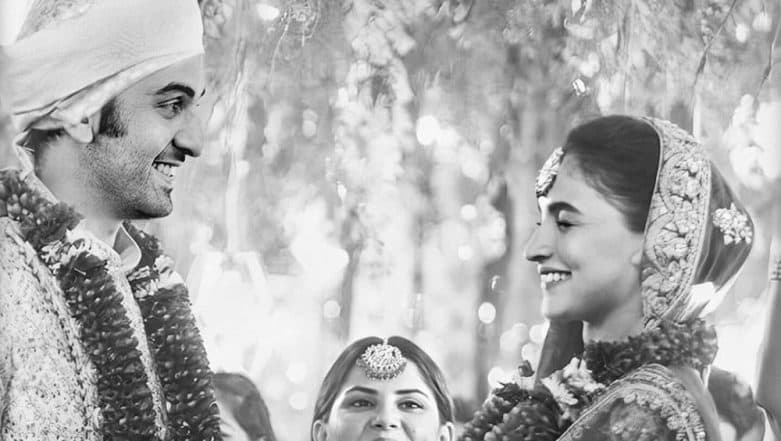 Ranbir Kapoor and Alia Bhatt look adorable together. We really like how they are not really hiding the fact that they are in love with each other. While the two of them might be taking things slow, their fans really can't wait for the day when they take the saat pheras. Well, the waiting game has come to an end as photos from Ranbir and Alia's wedding are finally here. Now before you get your thoughts running helter-skelter, let us tell you that the couple didn't have a secret destination wedding or anything of that sort. So where did the pictures come from, you ask? Well, Photoshop zindaabad!
An over-enthusiastic fan of Ranbir and Alia played with the photo-editing software, and did it really well. The monochrome picture, which is now going viral on social media really looks legit, only it's not. If you look carefully at the picture below, you will be able to make out that Ranbir's face is morphed in this still, which is from one of Alia's bridal shoot. Alia Bhatt and Ranbir Kapoor Enjoy a Movie Date With Varun Dhawan and Natasha Dalal - See Pics.
While the photo is fake, we are sure that both Ranbir and Alia will look happier than they do here when they exchange the wedding vows for real.  Recently, the two made another appearance together as they posed for the shutterbugs outside Mukesh Ambani and Nita Ambani's residence on the day of Ganesh Chaturthi. Check out their pictures right here:
While we are talking about Ranbir and Alia's wedding, the former was asked about it in one of the interviews. The actor said that their relationship is fairly new and they are not in any hurry to tie the knot. He also added that marriage is something that he should naturally feel to commit to and not because he is getting older. So we can say that the wedding is not on the cards anytime soon.