Krishand of Aavasavyuham fame comes up with his third directorial, Purusha Pretham (The Male Ghost), that has released directly on SonyLIV to much acclaim and good reviews. The movie stars Alexander Prasanth, Jagadeesh, Darshana Rajendran, Jeo Baby, Devaki Rajendran, Sanju Sivaram, James Eliya, Maala Parvathi, Pooja Mohanraj among others. While the title of the film may suggest that Purusha Pretham is a supernatural story, the film is nothing like that. Instead it is a light-hearted police satire, a mystery thriller and a noir all wrapped into one film. Purusha Pretham Movie Review: Krishand's Refreshingly Subversive Cop Satire is Boosted By Prashanth Alexander and Jagadish's Standout Performances.
The focus of the story in Purusha Pretham is on SI Sebastian (Alexander Prasanth) and his deputy Dileep (Jagadeesh), whose lives and jobs go topsy-turvy after the discovery of an unidentified corpse (referred to as 'pretham' by the cops for such bodies) in a nearby river. Forced to bury the unidentified body in the local graveyard before the stipulated 7-day period because the hospital morgue runs out of space, Sebastian and Dileep face a big hurdle when a woman called Susanna (Darshana Rajendran) comes to the station and claims that the body could be of her husband Bobby who has been missing for the past six months.
Sebastian is sure that the body doesn't belong to her husband and he doesn't want to dig it up on mere suspicion, but Susanna is persistent. After months of chasing up, Susanna takes the legal way and gets the cops to dig out the body for identification. Here's where the snag happens - the police doesn't know where exactly they have buried the corpse.
So what happens in the end? Let's warn you that the below article has MAJOR SPOILERS about how Purusha Pretham ends, so read ahead cautiously.
Who is the 'Purusha Pretham'?
The suspended Sebastian and Dileep finally manages to get hold of one of the gravediggers, and they find the right body this time. However, the super-imposition report certifies that the skull of the unidentified corpse is that of Susanna's missing husband. It turns out later that Sebastian's intuition was right. The dead body actually belonged to the missing husband of Sebastian's paramour Sujatha (Devaki Rajendran). Sujatha finds the ring, which was discreetly taken from the corpse by Dileep when they found it near the river, in Sebastian's pocket and she thinks he did something to her.
Watch the Trailer:
Sebastian, glad to realise that his convictions were right, instead of pacifying and explaining the facts to his lover, decides to follow up the truth with his seniors. However, they are tired with the case and disregard what he wants to say. So instead he decides to confront Susanna at her house before she plans to leave for USA that very night, as he realises that she has been lying about the corpse being her husband's.
Noir-ish Finale
Noir is the genre of cinema that used to be popular in the '40s and '50s, and dealt with crime thrillers where the framing and narrative take dark turns. Purusha Pretham had been a cop satire and a investigation drama till then, turns into a noir in the finale when Sebastian confronts Susanna at her house in the rainy dark night.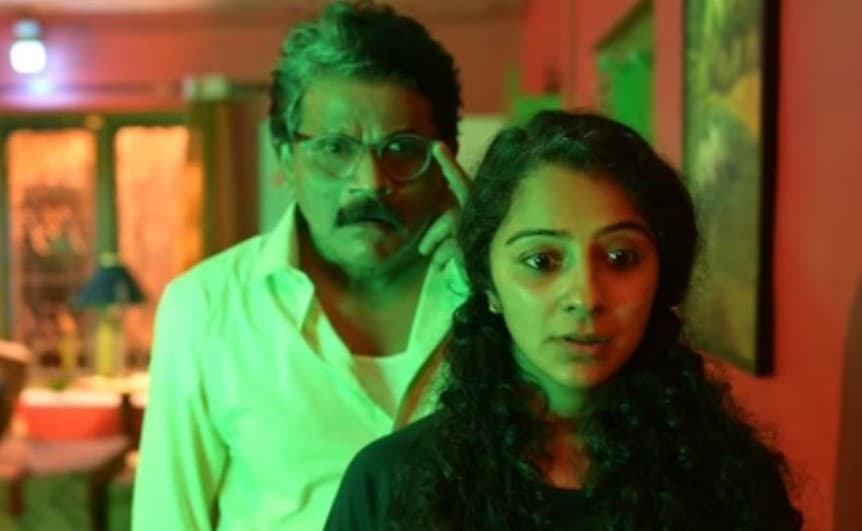 Susanna was not alone as her lawyer was there in the house. Sebastian confronts them, and Susanna confesses that she knew that the corpse was not of her husband's. She tells him that her husband had been a very abusive man and she had suffered torture at his hands for years. However, she insists that she had no hand in his disappearance and her lying to the police about the corpse being that of her husband's is just to get her closure in the case, and help her return to the States. An idea that the lawyer suggested (they strongly hint that they also made the superimposition report in their favour). Christopher Ending Explained: Decoding the Climax of Mammootty-B Unnikrishnan's Cop-Thriller and Whether It Promises a Sequel.
Sebastian at first rages and threatens both of them, but then the compassionate side in him makes him agree to let her go. For him, the fact that her admission validates what he has been saying about the corpse. However, his satisfaction is short-lives as Susanna's brother Aby ambushes him by hitting him on the head. Sebastian falls unconscious, and while tending to him, Susanna lets it slip that she and Aby had actually killed her husband. While admonishing Aby, she reminds him of which is the best spot on the head to hit that would fatally kill a man (though she didn't intend to kill Sebastian). This leaves her oblivious lawyer shocked, and he is told to leave the place if he didn't want to be a witness.
Susanna and Aby drag an unconscious Sebastian outside the house and drop him in the well in their courtyard and they cover it up.
Super Sebastian
It is interesting to note that whenever Sebastian goes into 'Super Sebastian' mode, it always start with a broadcast on the police wireless. It is like the film is telling us that what we are going to see ahead is merely Sebastian pulling a tall tale. So what we see next is an injured Sebastian back at home on his bed, telling his old legion of fans of what really 'happened' that night.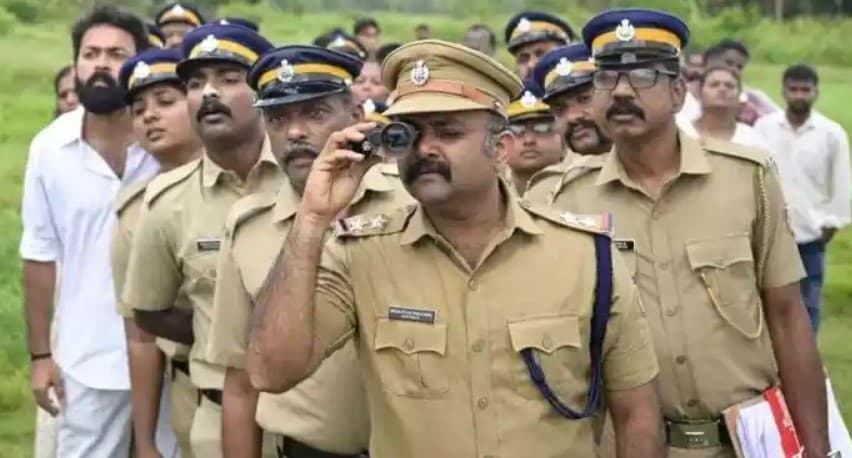 He claims that he, despite his injuries, climbed out of the well like a superhuman and then went on to face his almost-killers while they were trying to flee in their car. He tries to overpower Aby, but before he could completely defeat them, Susanna hits him with their car and he gets grievously injured in the process and they escape.
What Really Happened?
Sebastian may like to see himself validated as a supercop, and is not exactly an idiot, but he is not the hero he thinks himself to be. In reality, as the last scene shows, he was rescued by Dileep (which confirms that Dileep knows most of Sebastian's tales are exaggerated versions) from the well.  This could mean that Sebastian had already told Dileep that he is heading to Susanna's house, but didn't wait for his subordinate to arrive.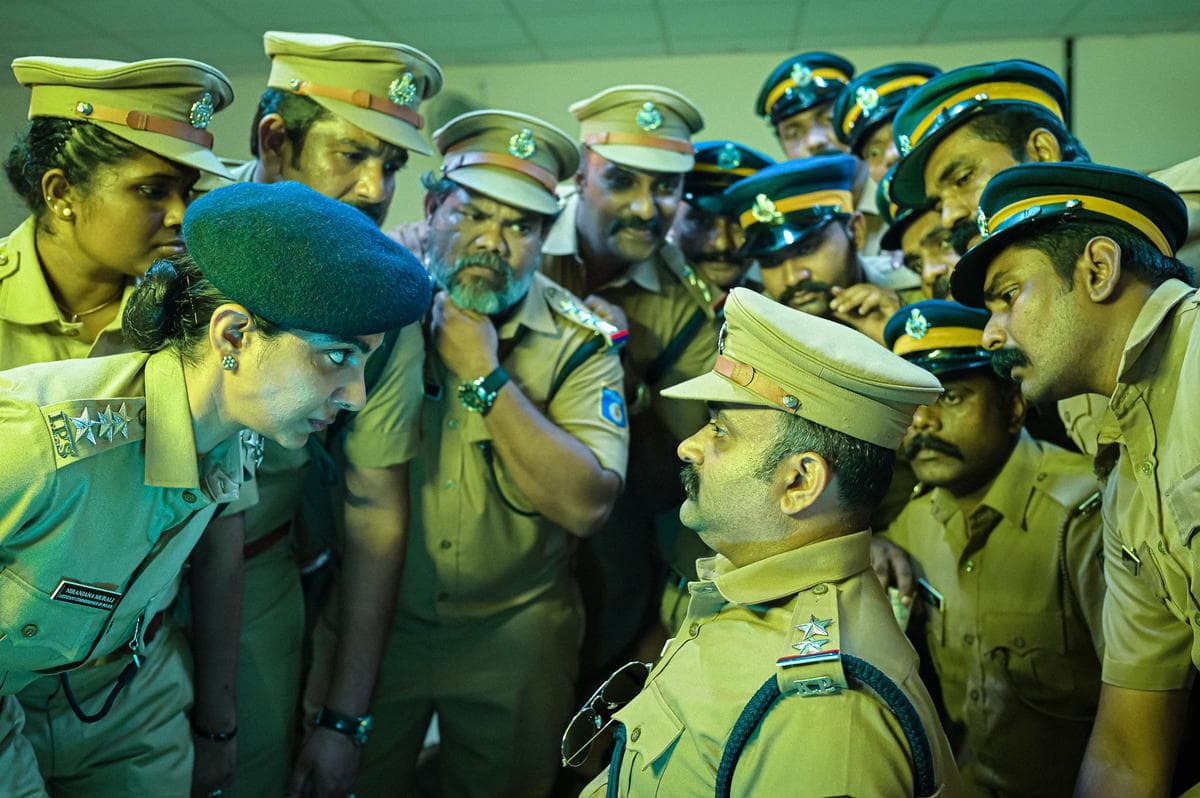 Sebastian tells his fans/listeners is that Susanna and Aby has made their escape from the place and presumably flown to the States, though he disguises his incompetence at not holding them off as his act of compassion.
Anyway, Sebastian has found his happy ending to his own tale, what with Sujatha back at his home, presumably having forgiven him for the misunderstanding about her dead husband and has now got her closure. His mother's caretaker, who left her job because she wanted a raise, is also back which means Sebastian has gotten his job back that he could pay her the salary she wants. The fact that the last scene (save for the well-rescue sequence) mirrors the opening scene means Life has come a full circle for Sebastian, and he will continue to regale his fans with tall tales, though after Dileep's retirement, he wouldn't be having a loyal subordinate to help him out there. And yes, he also gets his orange squash finally!
So Where is Bobby's Body?
As for where Bobby's body really is, the cops discuss many suspicious spots around their city (and in doing so, educating the audience where the best places to bury a body are in Kochi), though Sebastian dismisses the idea that the body could be buried. Instead, he suggests that there are other ways to dispose and you can find those on the internet itself. One of the policemen suggests if Sebastian found the body in the well he was thrown it, and he annoyingly dismisses the idea. So where is the body?
Well, looks like Sebastian himself might have given us the idea of where it could be. One of the suggestions he makes is straight out of Breaking Bad, where he mentions that a body can be destroyed using acid. So what if Susanna and Aby burnt the body using acid and then dispose the ashes in the rose plants Aby is cultivating, and also in the craft materials that he makes. The  occasional jump cuts to those plants, and how the lawyer suspiciously looks around the house when he realises Aby and Susanna killed Bobby do hint in that direction. So what say readers? Where do you thing Bobby's body has been disposed? Share your thoughts in the comments section below.
(The above story first appeared on LatestLY on Mar 27, 2023 08:14 PM IST. For more news and updates on politics, world, sports, entertainment and lifestyle, log on to our website latestly.com).