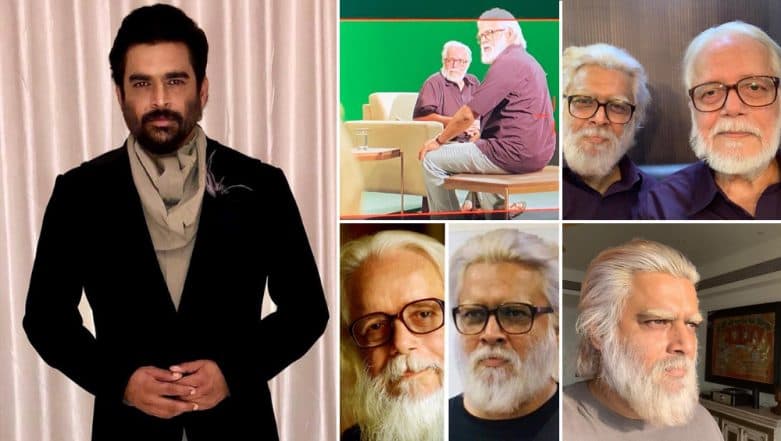 R Madhavan is making his directorial debut with the multi-lingual film, Rocketry - The Nambi Effect. Based on the life of Indian Space Research Organisation (ISRO) scientist Nami Narayan, R Madhavan is playing the lead in the film as Narayanan himself. The movie will show Narayanan's tenure in the ISRO as well delve into the controversial episode when Narayanan was accused of espionage and was even arrested in 1994. Though the Central Bureau of Investigation (CBI) later acquitted him of all the charges and even the Supreme Court had declared him innocent. R Madhavan Takes Up The Director's Hat For Rocketry: The Nambi Effect After Filmmaker Ananth Mahadevan Steps Down.
It is definitely an interesting film to make his directorial debut with. Madhavan is also making sure that he is doing everything right with the look. He had shared a picture of himself made up as Narayanan, and then posed with the real man himself. And then he asked the fans if they can find out who is who! Rocketry: The Nambi Effect- R Madhavan Goes Complete Grey For The Look Of Ex-ISRO Scientist Nambi Narayanan And We're Shook!
Check out the pictures below -
Interestingly, Rocketry was also to be directed by Ananth Mahadevan, who later walked out of the film for unspecified reasons. Explaining his walkout, R Madhavan said in a statement, "Ananth Mahadevan is an extremely talented filmmaker. However, owing to unavoidable circumstances and certain pressing commitments he could no longer direct Rocketry - The Nambi Effect. Rocketry is close to my heart for many reasons. The film is shaping up well and I can't wait to tell the incredible story of Nambi Narayanan to the world."