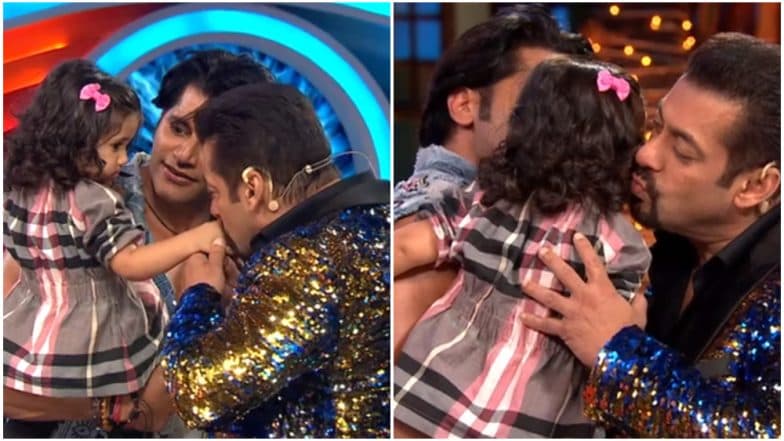 Bigg Boss 12 is approaching its final leg and it'll only get tougher. However, the contestants had a breather of sorts this week when Bigg Boss introduced the Family Task, where the contestants' families visited the house. And amidst some unpleasant encounters and incidents, the highlights of the week were definitely Karanvir Bohra and Sreesanth's children, who brought smiles to all the contestants. Bigg Boss 12, 9th December 2018 Episode Written Updates: Karanvir Bohra and Sreesanth's Kids Enter the House
Karanvir could not control his emotions when he saw his daughters run up to him and hug him. In fact, KV and his wife Teejay Siddhu even took the kids around, while the twins went on reciting every contestant's names, which definitely won them a lot of hearts and admirers. Also, Karanvir's daughter Bella went on to name capital cities of some countries, that made her daddy go all proud on her.
But what broke everybody's hearts was the moment that Bigg Boss ordered Teejay to exit with the children. KV's daughters began to cry when they were walking towards the door and could also be heard even after the main door of the house was shut. Bigg Boss 12: Karanvir Bohra's Daughters Are Entering The House And We Can't Wait To See His Reaction On Seeing Them
But this has not deterred Bella who is now determined to meet her Father again. In fact, just a few hours ago, Teejay posted a video of the kid wearing her shoes with plans to head out of the house. And when Teejay asked her where she was off to, Bella said, "Salman Khan" as she is of the assumption that her Daddy is at Salman Khan's house. See the adorable video below:
The day after her Bigg Boss house visit, our little Bella wants to go see Dad again.She thinks he lives at Salman Khan's house so she is off to meet Daddy! 😄 Now doesn't this just take away all your Tuesday blues?#TeamKVB #HeroKVB #BB12 @colorstv #Bella #Vienna @BeingSalmanKhan pic.twitter.com/ifmVpr19hc

— Karanvir Bohra (@KVBohra) December 11, 2018
A source close to the show revealed, "The kids were uncontrollable after leaving the house as they were separated from Karanvir. Bella kept calling out Salman's name repeatedly, as she thinks that her daddy lives in Salman Khan's house."
We all know how much host Salman Khan loves kids. Well, Salman.. are you listening?