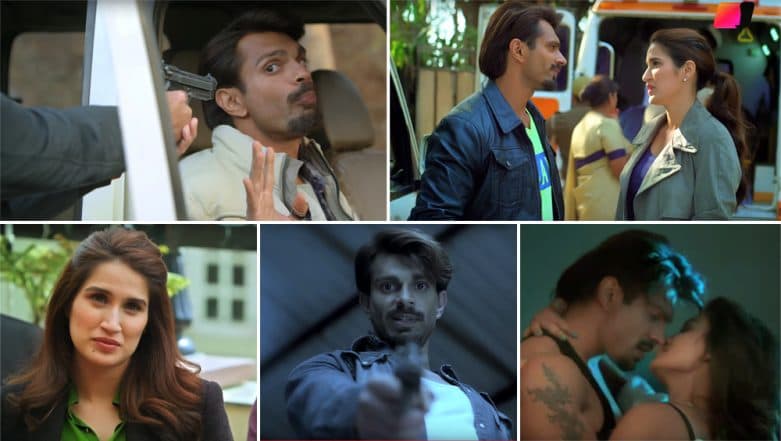 And finally… the trailer for Karan Singh Grover and Sagarika Ghatge's digital debut is here. After teasing fans since March with the first jhalak of the show, Ekta Kapoor finally dropped her ALTBalaji show BOSS – Baap of Special Services' trailer and we simply can't keep calm. Reason- it's thrilling, visually appealing, engaging and seems to have all the right elements to keep the thrill factor going. Read on to know what we thought about the trailer. Karan Singh Grover and Sagarika Ghatge Look Badass In This New Poster of ALTBalaji's BOSS – Baap of Special Services!
The trailer starts with the introduction of Karan Singh Grover's and Sagarika Ghatge's characters Sudheer Kohli and Sakshi Ranjan, respectively. While Sudheer is shown to be very sharp with detailings of crimes and uses unconventional methods to find out the truth, Sakshi is described as the sharp and hot cop, who is all about rules. She is also shown to be immune to Sudheer's charms and flirtatious nature and does not appreciate his cheekiness. At a point in the trailer, Sakshi is also seen getting suspicious about Sudheer. BOSS – Baap of Special Services New Poster Out Now; Sagarika Ghatge and Karan Singh Grover Look All Set To Take On The Crime World!
It is then revealed that Sudheer Kohli is not who makes himself out to be and Sakshi gets hot on his tail in pursuit. In a series of revelations, Sakshi and Sudheer (who is a conman named Keshav) have a confrontation and soon follows an explosive climax.
Karan Singh Grover does not disappoint us at all. He exudes his charm and his flirty nature effortlessly and even plays the being badass part to the T. The show is also visually appealing, considering it has been shot at real locations in Himachal Pradesh. However, our very high expectations from Sagarika Ghatge take a serious hit as the lady does not impress us very much. All in all, the trailer successfully adds the show to our list of must-watch shows, for it has all the elements of visual appeal, thrill, an engaging storyline and suspense in the right amounts.