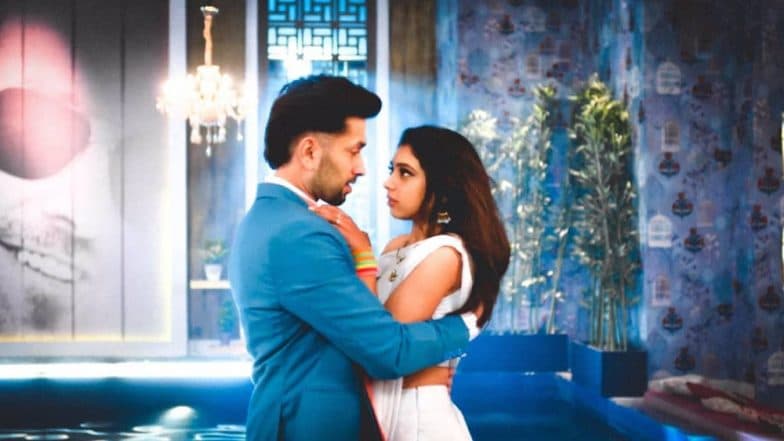 Today's episode of Ishqbaaz starts with Mannat (Niti Taylor) telling SSO (Nakul Mehta) seeing the menu card that one tea is costing 500 rupees and thinks might be wrongly printed. SSO tells her to not to worry about money at least for tonight. Mannat asks why is he doing this, he says this is for her and that she has done so much for him and from the day he met her she has shown him such a beautiful world which he has never seen earlier. SSO tells that previously they used to fight and argue but gradually all hate all anger turned into care and that he wants to say…. that he really like the song saying this he changes the topic. SSO says that he feels like dancing, Mannat says but his health is not fine. SSO tells her not to stop him today and to call him by his name and not sir (Janey jaa janey jaa track is played in the background). They eat their dinner and enjoy with each other. After dinner, they go to eat an ice-cream which is a treat from Mannat to SSO.
Mannat and SSO come home, she says that she will remember this day her whole life, Mannat says lets us talk whole night about each other. They talk about each other's lives and sleep. Mannat gets up and sees she is sleeping in SSO's hand and in his bed with him. SSO says that it is alright as they are husband and wife. Mannat goes to freshen up.
There Mannat is gone to meet Varun, he asks for the paper. Mannat gives the paper but he sees it is not signed and gets angry. Mannat say she did not take the sign and she won't do as he says. Mannat sees her father and tells him that she cannot do this and asks forgiveness from him as she is not able to save him and hurt SSO. Mannat's father says that he is proud of her, but Varun comes and says he is silly and that he should have known earlier that coward father's daughter will also be a coward. Mannat slaps Varun and warns not to talk like this with her father. Varun gets impatient and tries to hurt Mannat but she beats him with a stick and he falls down. Mannat tells her father that she will bring SSO and runs from there. Vaun gets up and says this girl will ruin his plan and calls Sahil and says that he has to do something about Mannat. Sahil says he knows what to do and keeps the phone. Sahil sees SSO coming and hands over the divorce papers and tells him to sign it. SSO is shocked to see it but Sahil says he knows that she takes care of him and his family and says today no problem is there but if in future he wants to marry someone else then Mannat may try to create some problem. SSO says that he used to think that Mannat is wrong but now he has full faith in her. Sahil says this is what she wants so that she can take advantage of this situation. Sahil says that he is very innocent and does not know how people are and this is what happened with Shivaay too, the one whom he blindly trusted he only killed him. SSO asks Sahil whether he knows someone named P.K. and that the commissioner had told that the person who killed his father is P.K. Sahil says he knew that someone who Shivaay trusted killed him but was it P.K., he says that he was working in their factory. Sahil says it is Pramod Kurana and that he is Mannat's father.
Mannat comes to tell to SSO the truth, but SSO stops her and tells what a game she played with them Mannat Kaur Khurana. SSO says that he thought that she was their enemy but he was wrong and that she is their ancestral enemy. Mannat is shocked to hear this. SSO tells that all this her father and she planned together. PN ask what is the matter and why is he talking like this with Mannat. SSO tells PN that he is saying the truth and that this innocent and so-called kind Mannat is his father's murderer P.K.'s daughter. SSO tells that her father has already stolen the most precious thing from his house now what she wants. If she wanted money, he wouldn't have refused and would have given to her but she played with his emotions and his family. Mannat says she does not know what he is talking about and that Varun had to find out about her father and was threatening to kill her father and he is compelling her to take divorce from SSO and to claim all the property. SSO tells that Varun is in the Jail. Mannat says no he has run from the jail and she saw him herself. SSO calls ACP Pawar and asks if Varun is in jail or out. Mannat says till the police find out he should come with her and see everything. SSO says that he is giving the last chance to her and believing her, Sahil sees them and tries to stop him by saying how can he believe her and that P.K. is only the murderer. SSO says that he wants to give her one chance and goes with her.
Mannat brings SSO to the factory but finds that her father and Varun both are not there.(Varun had called Sahil when Mannat had gone, Sahil had told him to shift P.K. from there and he should go back to jail) SSO ask where is her father. Just then the ACP calls and tells that Varun is inside the jail, SSO thanks her for giving the information. Mannat is shocked to hear it. ACP says that they have come to know about P.K., SSO asks where is he and goes to the said address. SSO and all see P.K. being taken away by the police. Mannat runs and holds her father and tells that she knows he has not done this and ask him to tell the truth. P.K. sees Sahil and then shouts and says that he has done this murder. In the precap, SSO is telling Mannat that he does not know what was there between them earlier but from today everything is finished and tells her not to show her face to him.