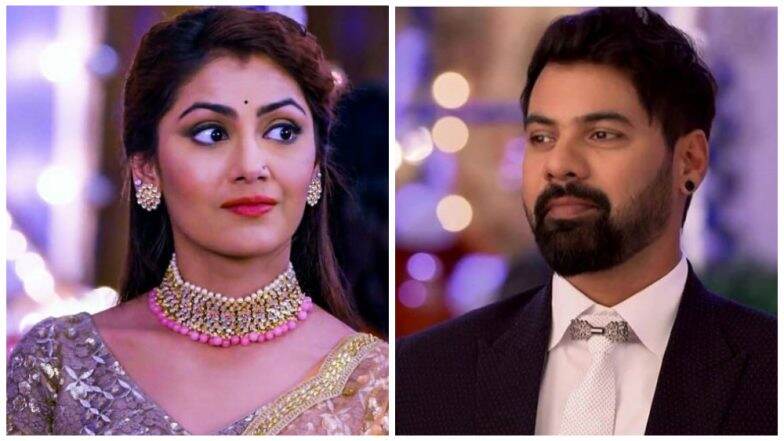 Today's episode of Kumkum Bhagya starts with Disha telling Pragya (Sriti Jha)that she wants to talk to her about the mandap. Disha says Abhi (Shabir Ahluwalia) and she decorated it very nicely. Pragya says she doesn't want to talk about Abhi now. Aaliya thinks why Disha is not drinking. Disha turns and collides with Dasi and the poisoned glass falls down. Dasi asks her to be careful. Disha tells Pragya that Abhi loves her very much. Pragya gets drunk after the drink and asks Mitali about Abhi. Mitali shows her Abhi. Pragya hugs Mitali and goes to Abhi. Pragya holds Abhi's hand. Chachi asks if she is drunk? Pragya asks him to come with her. Chachi asks Mitali about Pragya's relation with this house and asks if she had any relation with her before, how does everyone know her so well. Pragya asks Abhi how much you trust me?
Abhi says immense trust. Pragya says if he needs heart surgery then will he let her do his surgery or let the doctor do. Abhi says he will ask her to do his surgery as she is the only one who can remove all the pain. Pragya says let's marry? Abhi says she is drunk and asks her to rest. Pragya asks him to marry her first. Abhi says you couldn't stand properly, then how you will take rounds. Pragya says that he does not want her to become his wife and that he doesn't love her. Pragya says she loves him so much and don't know what she is saying? Pragya says that she is requesting him to marry her and asks how much she shall plead? She says she wants to live with him else die. Abhi promises to marry her. Pragya hugs him. She asks him to go and wear sherwani and tells that she wants to be with him all life. She says we will stay together all life and asks him not to waste time.
Abhi says that he will come back soon and runs. Disha asks Abhi why is he happy? Abhi says Pragya wanted to marry and wants him to change his clothes. Does Disha say if Pragya said this? Abhi comes to his room and wears his marriage sherwani. Disha says marriage is becoming special and tells that she will inform Purab. Pragya sees Tanu and tells her that she is marrying Abhi. Tanu says Abhi is her husband and says you can't marry him again. Pragya says that she is still married to him as the divorce didn't happen.
Pragya tells that she loves Abhi very much and that's why they get married again and again. She asks him to think how many births they will be together. She tells that she shall not count her marriages with Abhi and her heart is beating dhak dhak again. Tanu says she should remember how he has insulted her. Pragya says he is repenting so much that he wants to give much more respect than the hatred. Tanu says that she will make her see the truth and first of all she should get your drowsiness to go. She takes her to the washroom and asks to wipe her face and sit there. She gives her medicine. Pragya says she does not want to have medicine. She says she wants to go and marry. Tanu asks if she wore the dress before taking the decision to marry. She tells her that Abhi tricked her to marry him. She tells that Disha made her drunk intentionally so that Abhi marries her by cheat. Tanu says she was made to drink so that he can do what he wants to do, he wants to take advantage of her situation. He wants to marry you for Kiara and not for you. Pragya is shocked.