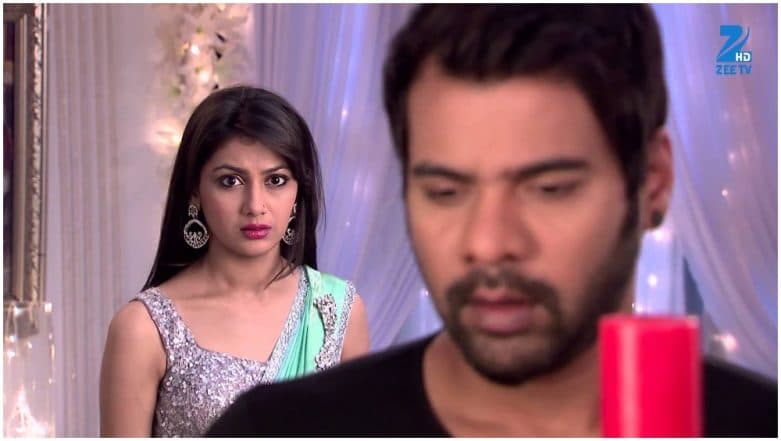 Today's episode of Kumkum Bhagya starts with Prachi going up to Rahul and convincing him to get slapped by her. Riya's friends eavesdrop and tell her that Prachi managed to convince him for the slap. As Prachi slaps Rahul, everybody starts asking Riya to go and kiss him. Riya refuses to kiss him but everyone starts cheering for her. Sahana then tells Riya that if she cannot put up with a challenge then she shouldn't insult others. However, irked by her comment, Riya is about to slap her when Prachi intervenes and stops her. She then tells Riya that next time she rags anyone, she will remember this incident.
Furious at her, Riya walks away with her friends. Riya swears to teach Prachi a lesson for insulting her in front of the entire college. As Prachi and Sahana disperse to their respective classes, Sahana bunks her lecture. She overhears some girls talk about a 'cute' guy named Ranbir who is the college stud. Sahana follows the girls and goes to the football court where the 'stud' Ranbir scores a goal, making it their team's win. After winning, the guys are changing in their locker room where Ranbir is walking in his towel while flaunting his abs.
Prachi leaves the classroom and finds a ball on the way so she takes it to return it to Ranbir. Ranbir is being hounded by girls asking to go on dates with them. Just then Prachi enters to return the ball when the girls assume he is rejecting them for her. Ranbir walks towards Prachi and states that he is surprised with nerds trying to hit on him. Prachi returns the ball and tells him that she is not interested in him. He signs the ball and gives it to her but Prachi returns the ball with a condescending remark. With that, she walks away as he shows interest.
Meanwhile, Riya reaches home and is fuming over what happened in the college. Aaliya spots her and tells her that if somebody gives you something, always return the favour. Prachi and Sahana reach home and overhear their aunt cribbing about how he didn't inform her. She demands to ask Prachi and Sahana to pay for the food expenses if they are going to stay over. Sahana and Prachi are upset with it but they decide to take up some menial jobs that would help them get some money.
It's Riya and Prachi's birthday the next day. As Riya wakes up, she gets a pleasant surprise from Abhi as her room is decorated. Meera also walks in with balloons so Riya calls it 'Fuggi' instead of 'Fugga' which reminds Abhi of Pragya
In the precap, Abhi discusses with Purab that Pragya snatched Dadi first, then Kiara from him. Now he wonders if he would ever be able to see his elder daughter. There, Prachi comes to Mehra house and was excited to see the grandeur.