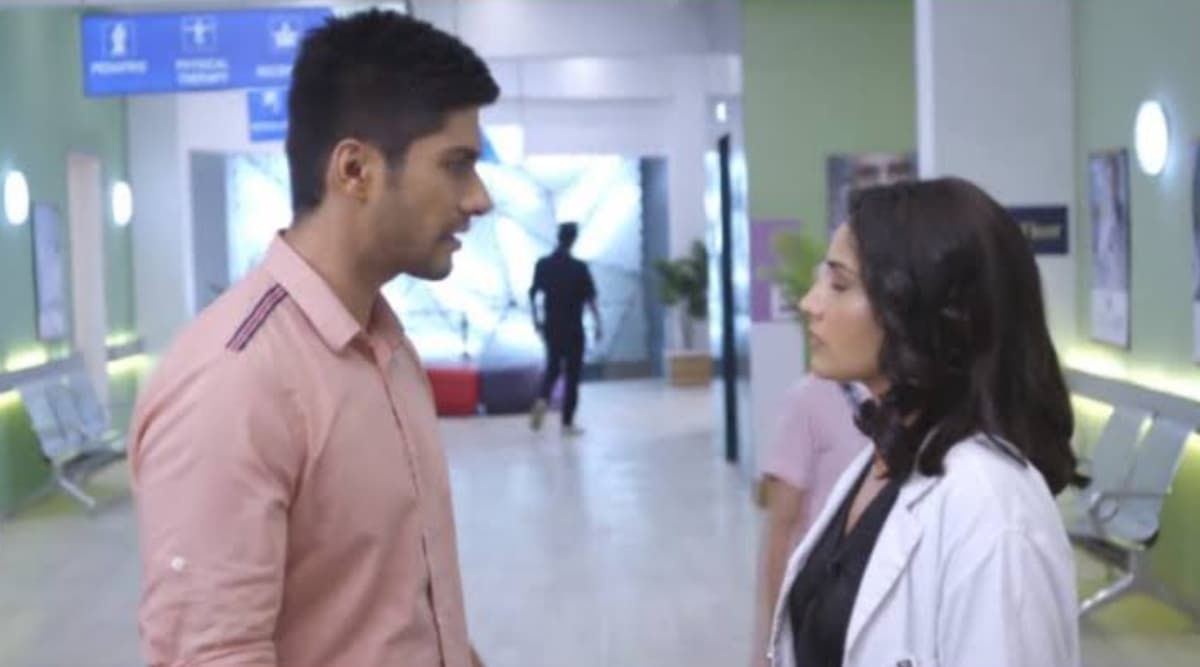 In the last episode of Sanjivani 2, we saw a heartbroken Ishaani starts to hyperventilate after learning about Asha's pregnancy, while Sid rips apart a photo of him with Ishaani. Tonight's episode starts with Ishaani (Surbhi Chandna) entering Sid's (Namit Khanna) cabin and asks why did he call and says if its to apologize then asks him not to as it doesn't hold any value. Just then the girl saved by Ishaani and Sid from bomb blast appears in front of her and asks her to calm down. She says it's her who called her, Ishaani gets happy seeing. She asks if she's fine and she nodes yes. She says that they both are her angels and gives them cards. She leaves bidding bye. Ishaani and Sid's card gets stuck but Ishaani separates it and says that just like the cards, they are separated permanently now and leaves. Sid says that no distance can separate them. Sanjivani 2 November 1,2019 Written Update Full Episode: Asha's Pregnancy News Leaves Ishani Devastated, While an Angry Sid Tears His Photo With Her.
On the other side, Rishab badmouths Sid in front of other residents including Rahil but he controls himself. He praises him for being a Casanova and dating both Ishaani and Aasha and taunts him for holding a fake medical degree. Having had enough Rahil gives it back to him saying that Sid is one of the best doctors of Sanjivani and taunts him for bringing up his personal professional place and leaves. Rishab fumes. Meanwhile, Aasha gets stalked by a hoodie man and he bumps with Ishaani. She shouts sorry but he leaves running while Ishaani finds it weird. Sanjivani 2 October 31, 2019 Written Update Full Episode: Asha Faints During an Altercation With Ishani.
Later, Ishaani orders Vada pav in the canteen with more chutney. She's about to have when she gets reminded of Sid feeding her and gets emotional. She's about to have it when she sees Sid entering with Aasha. He says he brought her homemade food and asks her not to have anything from outside as it's not good for the baby. Ishaani hears and feels pained. He orders himself a Vada pav with lots of chutney. He's about to have but he too thinks about Ishaani and gets emotional. They both talk about baby and food and Ishaani having had enough is about to leave when she finds the same hoodie person watching Aasha and Sid. She slowly goes to him but he runs away seeing her but he escapes. Later one Nurse says that even she found him stalking Aasha everywhere from morning and leaves. Ishaani thinks to let it go as its not her business but then she can't risk hospital's security.
Later, Ishaani sneaks into the CCTV room and checks the footage. She finds the guy stalking Aasha everywhere but his face is covered. She finds him in the new wing of the hospital and informs security about the hooded guy. She herself goes to check in the new wing. Meanwhile, the stranger watches her coming and takes a wood blade and threatens Ishaani with it.
On the other side, Sid hears security talking about Ishaani alerting about a strange person and her going to check on him. Sid gets worried for her and leaves to find her. Ishaani handles the situation and asks him to removes his hoodie. He removes it, Ishaani is shocked to see Aman.
In the precap, Ishaani asks why he is stalking Asha and what is going on. Later, she sees something in Aman's mobile and is shocked.