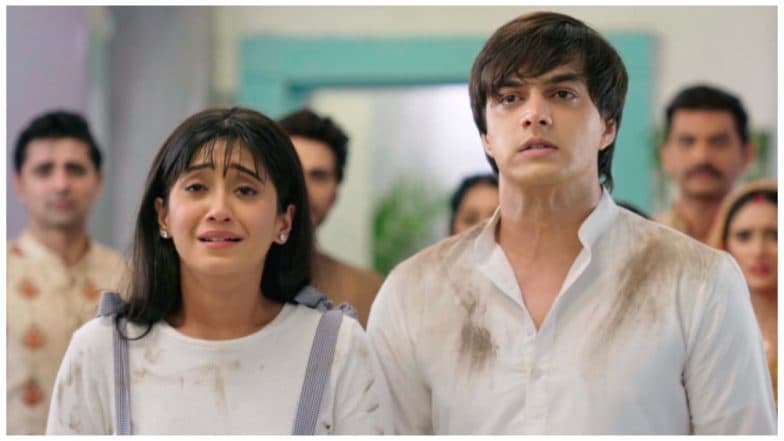 In yesterday's episode of Yeh Rishta Kya Kehlata Hai we saw Kartik and Naira struggle to locate a rare drug to save Kairav's life while the Goenkas are worried. Later, they meet with a tragic accident. Tonight's episode starts with Naira (Shivangi Joshi) using a shortcut so that she can reach the hospital soon so that the injection is reached to the doctor's fast, Kartik (Mohsin Khan) helps her to climb the wall so that she can reach the top and reach the hospital. The doctors take the injection and start their treatment on Kairav. Yeh Rishta Kya Kehlata Hai August 19, 2019 Written Update Full Episode: Kairav's Condition Deteriorates on the Operation Table and Naira and Kartik Gets Tensed.
Meanwhile, outside the O.T. all are worried and praying for Kairav's life. The operation is over, the doctor comes out and tells Naira that she is sorry for what all happened and that it was her staff's mistake. Naira asks how is Kairav now, the doctor says that he is saved as the injection came on time but she cannot assure that everything is fine till he gets conscious and tells that maybe they can lose him also. Naira collapses when she hears this. Yeh Rishta Kya Kehlata Hai: Fans Trend 'RIPDirectorsKutProductions' After Mahaepisode Of The Show Where Kartik Introduces Naira As 'Ex-Wife'.
In the Goenka house, all are tensed. Only Kartik and Naira are allowed in the hospital as they are parents of Kairav. In the hospital, as Naira tries to go and meet Kairav, Kartik says they will not allow as he also tried, they said till he gets conscious no one can meet him.
Meanwhile, in Goenka household, Vedika gets emotional and thinks of what will happen to her now. Vedika prays for Kairav's life and hopes he gets well soon. Back in the hospital, all the doctor's are trying their best so that Kairav responds to the treatment. Kartik tells Naira how Kairav first called him and saved his life and now he cannot do anything for him to save his life. Naira says that Kairav gave her a new life when he came to her life, she just lived for Kairav. Naira says if anything happens to Kairav then she too cannot live and will die without him. Kartik says that he thinks he will never hear Kairav call him papa again. Both Naira and Kartik cry remanence Kairav. (kuch aaise lagan is lamey mein hai track plays in the background).