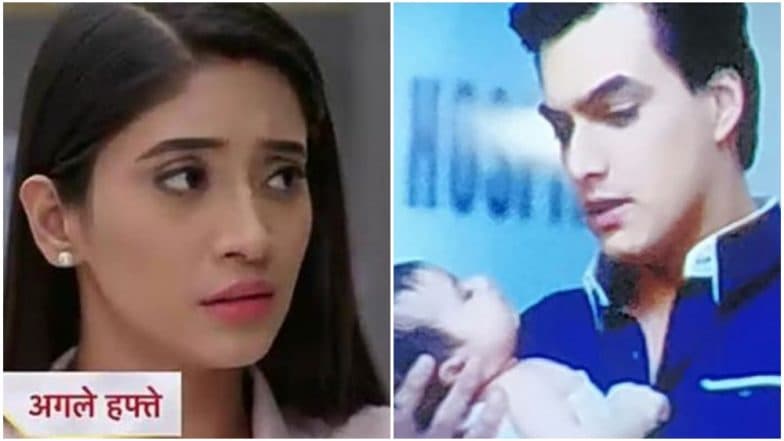 Today's episode of Yeh Rishta Kya Kehlata Hai starts with Kartik (Mohsin Khan) announcing the name and showing it to Naira (Shivangi Joshi) who is shocked seeing the name. Everyone claps, Naksh says Krish and Kirti listens and moves her fingers in her bed. Everyone is happy hearing the name and enjoy and dance. Naira asks Kartik why he did this, Kartik tells her that she only told that Kirti should have kept the name of our baby and as Kirti liked this name, he wrote it on the plate. Naira tells Kartik he should have told her before and that she is very happy that he thought about this name. Naira tells that the name is very nice and calls out the name Krish. Naira tells Kartik to hold the baby.
There Naksh go to Kirti's room and tells her that Naira and  Kartik have named their baby Krish and that he is very happy as the name they thought for their baby is kept, Kirti moves her finger listening to this. Naksh notices that Kirti has opened her eyes and runs to call out everyone down. Naksh tells everyone that Kirti has opened her eyes, all are happy and run up to see her. Kartik stops for a second while going and thinks whom will he give the baby now Kirti or Naira, and gets tensed. Kirti sees everyone, Naksh is overwhelmed seeing this and kisses her hand and tells that he cannot believe that she has woken up. Naksh calls out Naira and tells that whatever she told has come true. Naira holds Kirti's hand and feels happy. Suhasini tells that she will do a big pooja in the name of  Kirti.
Down Kartik is confused as what he will do now and is not able to gather the courage to go up and see  Kirti and remembers the promise he had done that whenever Kirti gets well he will return her baby. There Kirti is asking where is her baby. Naira comes down and asks Kartik what happened as everyone came up and why he did not come up and tells that she is feeling afraid and asks for the reason. Kartik asks when Kirti came to senses did she ask about the baby and her delivery. Naira tells Kartik yes she asked about her baby but she was not so clear as she is still weak. Seeing Kartik cry Naira is tensed as what happened. Naira takes the baby and puts it in the cradle and ask what is the matter. Naira tells him to cry how much he wants in front of her but not in front of Kirti as we have to be strong to support her. Kartik sees the baby. Naira takes Kartik to the room where Kirti is there. Kirti sees Kartik coming and smiles. Kirti sees Naira coming with the baby. The baby cries and Kirti tells my baby showing her finger towards Krish. All are tensed as what will they do now.  Just then the doctor comes and tells everyone to go out as he wants to check Kirti once. Everyone goes out.
Devyani is telling everyone why is God doing this to Kirti and that the first thing she asked was about her baby and not asked why she is in the bed. Suhasini tells that she will not be able to answer any of her questions. Naira tells everyone that we all have to help her in getting well and deal with whatever happens. Akhilesh tells that we will ignore her talks, Devyani says how can he talk like that today or tomorrows the truth will come out.  Rukmini tells we can do one thing till Kirti gets well we can give Naira's son to  Kirti and tell her that it is her son, everyone is shocked
In the precap, Kartik is telling Kirti about her baby's truth