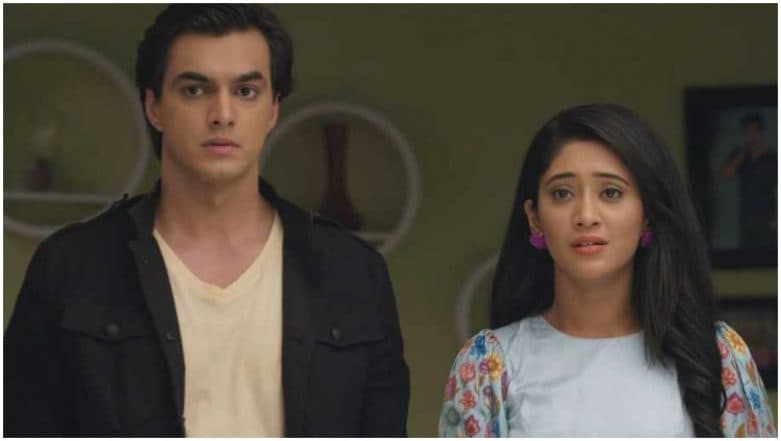 Today's episode of Yeh Rishta Kya Kehlata Hai starts with Kartik (Mohsin Khan) asking Naira (Shivangi Joshi) if she is fine, Rishab watches them.  Kartik sees Naksh coming and tells Naira that he has to go now and that she should wait here till her family comes, Kartik tells her not to tell anyone that he was dancing with her as shiv and goes from there. Rishab watches this all. Naksh comes and asks whether she is hurt and why she has come here. Naira tells that she is fine. Rishab thinks why did Naira not tell about Siddharth to Naksh.   Rishab follows Kartik as he washes his face with water to clean the blue colour which he had put so no one could recognize him. Rishab comes to know that Kartik is only Siddharth.
Naksh takes  Naira out of the temple where all are standing. Suddenly he remembers that Rishab is inside and goes in to get him. There Rishab is thinking about all that happened. Naksh comes and asks what is he doing here and when did he change his clothes. Rishab tells Naksh that he wants to tell him something. As Rishab says that he saw him going that way, Akhilesh comes and calls Naksh to come as Krish is not feeling well. Naksh runs to see what happened. Kirti is worried and asks Naksh to see what happened to Krish. Suddenly Naira sees Krish and runs and holds him and ask him to get up and tells why is he not listening to his mother, everyone is shocked to hear that Naira called herself Krish's mother.  Kirti tells Naksh to take Krish from Naira and take him to the hospital. Naksh goes and tells Naira to give Krish but she does not listens to anyone and just wants him to get up. Suddenly Krish starts crying, all are happy and Kirti comes to take Krish, Naira holds her tight and hugs him. Suhasini and all thank God that Krish is fine.
Rishab is waiting for the opportunity to talk with Naksh about what had happened but he is not getting. Devyani comes and tells Naksh that Rajeshwari and Varsha wanted to come in the temple and were asking how to reach there. Kaveri is telling Devyani that Rajeshwari is coming to see Naira but how she will feel when she comes to know about Naira's condition.  Naira is thinking where is Siddharth gone and thinks she should go and see and gives the baby to Suhasini. Naira says if she sees him she will thank him for helping her and watches the Lord Shivas photo and remembers about Kartik.  Devyani comes and tells what is she doing here and ask her to come with her. Naira asks about Lord Parvati to Devyani and she explains the story to her how she got married to Lord Shiva. Naira thinks she has also become Parvati today and she also loves Shiv and thinks her love story will be also like them. Naira imagines Kartik there and thanks God for everything. (Yeh Rishta Kya Kehlata hai track is played in the background)
Meanwhile, all are waiting for Rajeshwari and Varsha to come. Naksh says that Rishab and Naira danced so well and that he was amazed to see it. Naira tells that Rishab did not dance with her it was Siddharth who danced with her. Naksh becomes angry and asks who is he and why did she dance with him. Naira tries to explain that she also didn't know it was him and when the dance started she was supposed to dance and not stop in the middle and tells that he is from her dance academy. Devyani asks her if he troubles her on the way or something, Naira says that he is a good guy and no he does not trouble her. Naksh gets irritated and shouts at Naira that he had told her not to talk to strangers and believe them. Kirti tells Naksh to not shout as Krish is afraid. Naksh in anger tells that he will find out who is this and how dare he came close to Naira. Rishab follows him. Naira tells that she wants to go home. Rishab sees Naksh crying and calls him, Naksh says that he is scared for Naira and does not want anyone to hurt her. Rishab asks how can he help him and Naira and that he will not let anything happen to her.
In the precap, Naira comes to meet Kartik at his house.