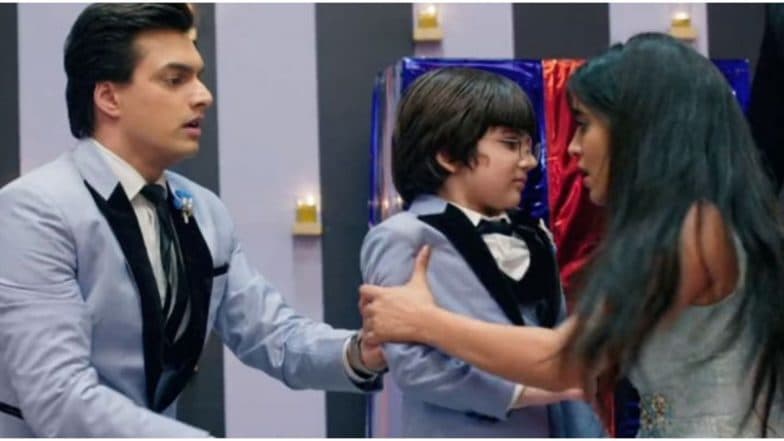 In yesterday's episode of Yeh Rishta Kya Kehlata Hai, we saw after the basketball match, Kairav makes an unexpected demand to Naira. Later, Jolly Singh enters the Goenka Villa for Diwali. Tonight's episode starts with  Kartik (Mohsin Khan) disguised as Jolly Singh talks with Kairav who tells him that he does not like his old father as he always fights with her and makes his mother sad that is why he ordered him so that he can keep his mother happy. Kairav writes a contract and tells him to sign it as he wants to prove that he will keep his mother happy, Naira (Shivangi Joshi) gets enraged seeing all these and goes from there. Kartik follows her and asks what is troubling her, Naira chides him as to why he is fulfilling all Kairav's demand and says next he can ask anything and he will fulfil that too. Kartik says Kairav hates him that is why he is trying his best to make him happy so that he loves him like before. Kartik says for Kairav's love he can do anything and she should not stop him, they argue with each other. Naira leaves from there. Yeh Rishta Kya Kehlata Hai November 7, 2019, Written Update Full Episode: Naira Is Upset With Kartik's Decision.
On the other side, Vansh and Kairav talk about the new father and that he is so nice. Vansh says now will forget his old father, Kairva says he cannot forget him but he does not like him. Vansh tells Kairav how will he come to know that new papa is good, Kairav says he will test his new papa and find out will he protect his mother or not. Kartik overhears him and gets emotional and is happy that Kairav thinks about Naira so much and prays that everything should be fine soon.
Meanwhile, Naira is upset as to what will happen now, suddenly she gets a bad dream and gets worried as to who is in problem now. Just then Kairav comes and takes Naira outside to show what new papa had done for her. Kairav is happy as the new papa loves his mother so much. Later, they go to cut the cake, Kairav wishes that the new papa keeps his mother always happy. Kairav tells his new papa to kiss his mother, Kartik kisses her, Kairav goes to get the camera to capture the moment. Naira chides Kartik as how dare he kissed her and tells him to stay away, again they both argue with each other, suddenly while talking Naira removes Kartik's beard, she sees Kairav coming their way and get tensed but Kartik does not know and goes on talking, Naira hugs him tight so that Kairav does not see him without beard. Kairav sees them together and feels happy. Later Kairav comes closer and asks Naira what all she told his new father. Kairav asks Naira's phone so that he can take their photo.
In the precap, Kartik as Jolly Singh enjoys and dances with his family.