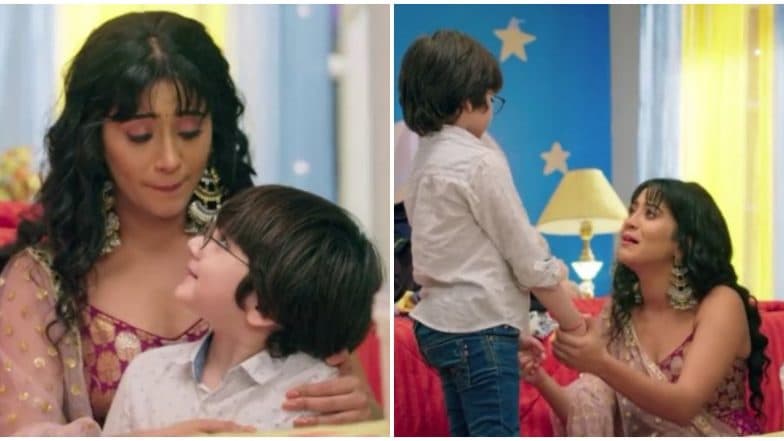 In the last episode of Yeh Rishta Kya Kehlata Hai, we saw Vedika accusing Naira while the Goenka's celebrate Ganapati visarjan. Later, Naira announces that she is leaving the house along with Kairav. Tonight's episode starts with Naira (Shivangi Joshi) telling Kartik (Mohsin Khan) that she will take Kairav with him to the Singhania house. But Kartik stops her and says he will never allow her to leave. Just then Kairav comes with Vansh and Naira tells Kartik not to create any scene in front of the kids. Kartik says he will not allow her to take Kairav away from him. Suhasini gets emotional and prays to God to solve this problem and return their happiness. Later, Suwarna calls Kartik to her room, scolds him and asks him to think about others also. She explains to him that Vedika and Naira can't stay under one roof, and what if Kairav asks him about this, then how will he answer him. Kartik gets emotional and says that Kairav is his child and he is just beginning to know his son. Kartik tells his mother that he loves Kairav so much that he will not allow anyone to take him away and cries. Suwarna tries to make him understand that he should let them go as Naira is Kairav's mother and he cannot live with her. Kartik gets upset as he is also the father of Kairav and he also has the same rights. Yeh Rishta Kya Kehlata Hai New Promo: Kartik and Naira To Get Into A Custody Battle For Kairav! Vedika To Attempt Suicide? (Watch Video)
Kairav and Vansh are enjoying eating chocolate modaks. Suhasini takes Kairav's video so that she can keep those moments captured with her. Suhasini gets emotional and hugs Kairav as she will miss him a lot. Later, in the room Naira packs their clothes and thinks what if Kartik stops them and cries. Suwarna comes and tells her to be strong. Naira says she is tired of fighting with everyone and now she does not have the strength to face Kartik. Naira says she will make Kairav understand. Kairav comes into the room and asks Naira are they going somewhere?
Naira tells him that they are going to Singhania house as she wants to show him her mother's house too as there is so much to see and he will enjoy there. Kairav says that he will come with her but for some days and then they will return back. Kairav asks whether Kartik is also coming with them, Naira says that he is not coming and Kairav gets angry. He says that he will not come with her if Kartik will not coming and leaves the room. Naira follows him and tells him to understand her problem, just then Vedika comes. Naira holds Kairav and tells him to behave, but he is not ready to listen to her. Kartik comes there. Kairav goes and hugs him and complains about Naira that she is forcing him to come with her. Kartik tells him that good boys should listen to their mothers and makes him understand that he should do what his mother is saying.
Kartik tells Kairav to go and if he does not like it there then he should call him and he will come to pick him up. Kairav tells Naira that he is ready to come with her, Naira thanks Kartik and leaves.
In the next episode, when Vedika sees Kartik and Naira together with Kairav she gets enraged and argues with Kartik.