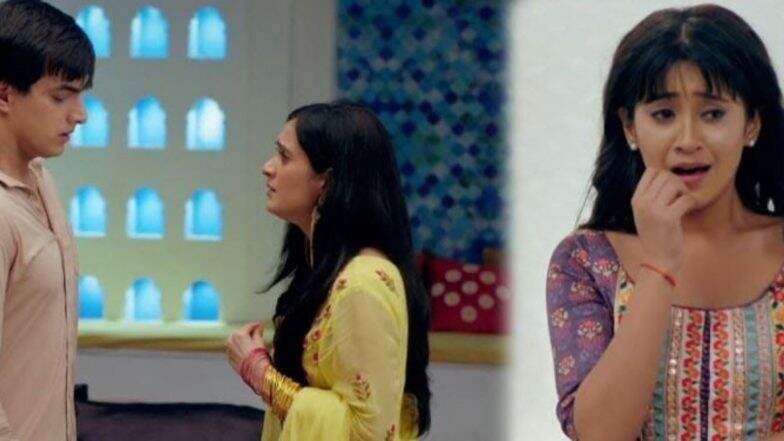 In yesterday's episode of Yeh Rishta Kya Kehlata Hai, we saw that Naira considers leaving the Goenkas. Kairav spends quality time with the family. Later,  Vedika is shocked to see Kartik and Naira sleeping on the same bed. Tonight's episode starts with Vedika seeing Karthik (Mohsin Khan) and Naira (Shivangi Joshi) sleeping together on the bed and gets furious. In the meantime, Naira and Kartik wake up and are shocked to see that they were sleeping together in the same bed. Naira gets up and thinks about Vedika's words. Yeh Rishta Kya Kehlata Hai September 19, 2019 Written Update Full Episode: Vedika Gets Disturbed Seeing Kartik and Naira Sleep on The Same Bed!
Suwarna comes down with Vansh and Kairav who are dressed as Ganesha and Karthikeya. Gayu asks Vansh that he was going to be Ganesha, Vansh says he wanted to be but the dress was not fitting properly so he told Kairav to become Lord Ganesha. Kairav says that Vansh has made him wear this dress and he also wrote something for him to perform. Suhasini gets over overwhelmed to see them in such attire and adores them. Kartik says then let's start the celebrations and Kairav says we will start once his mother comes.
On the other hand, Naira is in her room lost in her thoughts when Vedika comes to her and stands behind her. Vedika accuses Naira of always ignoring her problems and questions her if she just doesn't want to see them. She lashes out at Naira and says that she is fed up of listening to her and her son's talks. Whatever her son said all this while, she used to agree to it all without uttering a single word, all these years Kartik yearned for her, missed her and when he finally decided to move on she came back and that too with his son and on their wedding day. She continues telling Naira that Kartik had promised her that he will keep her happy and no one had pressured him for this wedding, She tells her that Kartik doesn't care about her (Vedika) being around him but if he doesn't see Naira his eyes start searching for her. Everyone is supporting Naira and standing by her, so much so that even Suwarna is supporting her and now that Kairav is fine and all his reports are normal why is she not going from their life? Yeh Rishta Kya Kehlata Hai September 19, 2019 Preview: Vedika Finally Confronts Naira And Asks Her To Leave Kartik's Life!
Later, Naira says it is not that easy to do what seems easy to say. Everyone is attached to Kairav and that she is not able to gain strength to take him away from them. Naira says destiny has played its game not only with Vedika but with her as well but her situation is a bit worse because she has a son with her. Vedika says to stop using your son as an excuse and says that truth is she does not want to go leaving the house. Vedika says she is speaking the facts and that she doesn't want to go away from this house and also leave Kartik. Naira gets emotional and cries and goes out.
Downstairs, Vansh and Kairav perform a play on Ganesha and Karthikeya. He makes Naira stands with Kartik which pisses off Vedika. Later Naira announces that she and Kairav have to leave now as his reports are all normal. Kartik protests and says no one can separate him from his child and he won't let him go.
In the next episode, Vedika gets furious when she sees Kartik enjoying with Kairav and Naira. She confronts Kartik and tells him that their marriage won't work out until Naira is in the house.