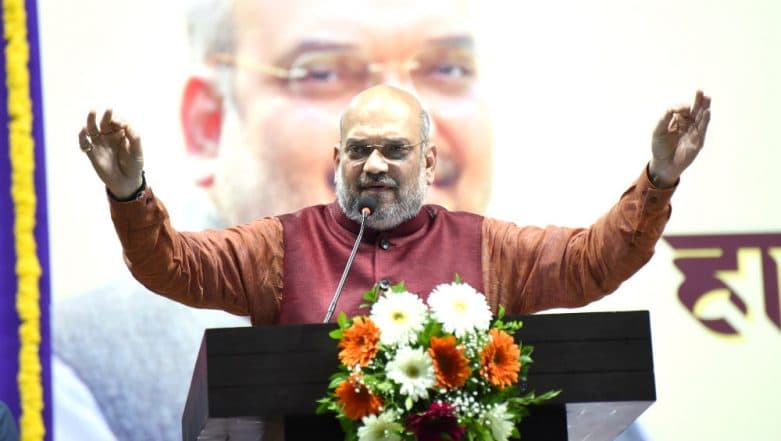 Mumbai, June 06: Bharatiya Janata Party (BJP) President Amit Shah is set to meet a host of celebrities as part of the party's 'sampark for samarthan' programme launched during Narendra Modi-led government's fourth anniversary. Apart from Shiv Sena chief Uddhav thackeray, Shah will also be meeting industrialist Ratan Tata, actor Madhuri Dixit, and singer Lata Mangeshkar, on Wednesday in Mumbai. During his brief visit to the Mumbai city, Shah will be sharing the list of accomplishments of the Narendra Modi government in the past four years.
The BJP chief was earlier scheduled to meet Shiv Sena chief Uddhav Thackeray to calm the simmering situations between the two allies of late. The recently concluded Lok Sabha bypoll that took place in Palghar, where the BJP candidate defeated Shiv Sena's candidate, which was the trigger-point of further rupturing already worsened ties between the two.
Speculation was rife that Shiv Sena might break away from the National Democratic Alliance (NDA). However, the knee-jerk reaction to the election loss was rather a controlled one.
Earlier, while launching its 'contact for support' programme, the BJP supremo had met former Army Chief Dalbir Singh Suhag and former Lok Sabha Secretary General Subhash Kashyap on May 29. Presenting the list of achievements the Central government had achieved in the past four years, Shah had also met cricket legend Kapil Dev, Yoga guru Swami Ramdev, and former Chief Justice of India (CJI) RC Lahoti.
Amit Shah is also scheduled to meet the legendary athlete Milka Singh on June 7 in Chandigarh, where he will be also meeting Shiromani Akali Dal (SAD) leader Parkash Singh Badal, who happens to be their ally partner in Punjab.
With Lok Sabha Elections 2019 looming over and the Opposition parties bonding over to put up a united coalition against the BJP, the party chief is trying to mend ways and bolster its ties with its partners in its mega public drive.