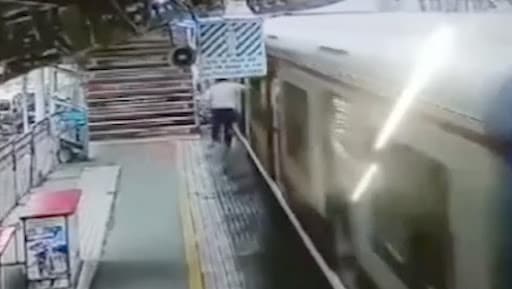 Mumbai, July 9: In a shocking incident from Mumbai, a local train commuter fell off a Churchgate bound train, and died, while chasing a thief who was trying to run away with his mobile. According to reports, he boarded the train in Goregaon and his phone was snatched in Charni Road Station. Mumbai Local Train Accident: Harbour Line Train Rams Into Electric Poll at CSMT Railway Station, Services Hit.
The victim identified as Shaikh Abdul was a resident of Goregaon. He was travelling with his colleagues in a second class compartment when the accident took place.  He was sitting in the compartment near the door when the thief ran away with his phone. The accused jumped off with the deceased's phone, Shaikh also jumped after him and he fell on the tracks and died.
Here is the video of the incident which has gone viral!
Shakil reportedly worked as a driver with a five-star hotel and he was the sole earning member in his family. He is survived by his wife and two sons.