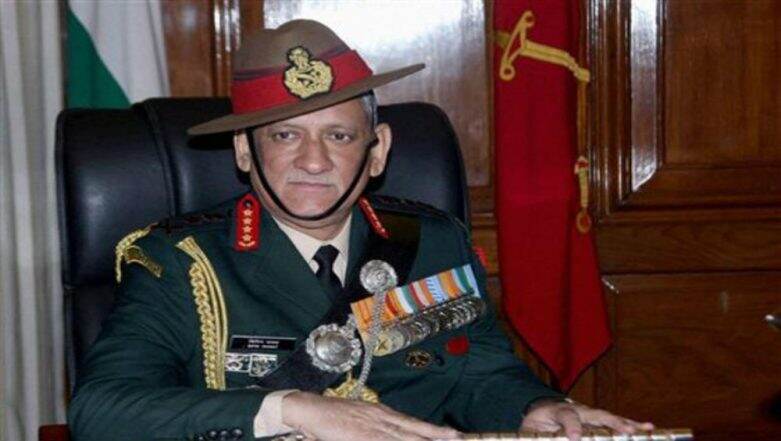 New Delhi, November 22: Indian Army chief General Bipin Rawat has lended support to the Centre's National Registrar of Citizenship (NRC) drive -- undertaken to weed out illegal immigrants from Assam -- claiming that those settled in the Indian territory without legal jurisdiction pose a threat to national security.
Gen Rawat also condemned the political parties and rights' groups who want citizenship for the illegal settlers, accusing them of "undermining national security". The Chief of Army Staff, instead, said the government should adopt a zero-tolerance policy while deporting those found to be unregistered immigrants. Army Defends General Bipin Rawat's Remark on AIUDF, Bangladeshi Immigrants: 'Nothing Political or Religious'.
"If they are illegal, they need to be deported. If they are legal, they need to be amalgamated. But then that amalgamation must happen in a manner that benefits everybody. Let it not go the political way," he said during an interview with news channel Times Now.
Notably, the NRC drive earlier this year declared 40 lakh out of Assam's 3.2 crore population as "illegal immigrants". Those excluded from the Registrar of Citizenship were asked to file their applications seeking inclusion by December. However, only around 4.5 lakh people have so far submitted their reconsideration pleas.
Rawat, while targeting political groups allegedly supporting illegal settlers, said "these parties" are trying to get them citizenship issued without the legal procedure.
The Army chief had voiced similar concerns while addressing a seminar in Delhi in February, where he said that the unprecedented rise of All India United Democratic Front (AIUDF) should be considered as a sign of alarm.
"When we talk of Jan Sangh, with two members of Parliament and where they have reached, AIUDF is moving at a faster pace in Assam. Finally, what will be the state of Assam, we have to take a call," he had said.
The AIUDF, led by cleric-politician Maulana  Badruddin Ajmal, currently has 13 MLAs in the Assam assembly, making the party the third-largest electoral group in the state.
Ajmal, who is also a noted perfume baron, had in February marked strong dissent to Genn Rawat's comments. "I am an Indian citizen, and so were my forefathers. The Army chief has no right to malign my party. The AIUDF is thoroughly secular and has significant number of Hindu leaders and supporters in Assam," he had said.