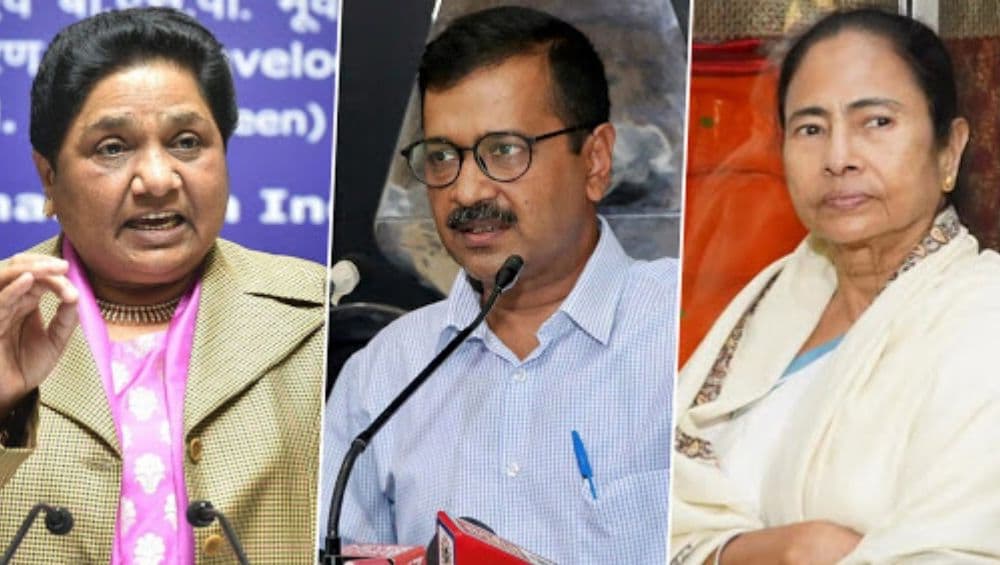 New Delhi, January 13: The opposition parties will meet today at 2 pm in the Parliament annexe to discuss the current political situation pertaining to CAA and NRC. In the latest development, the meeting will, however, not be attended by BSP Chief Mayawati, West Bengal CM Mamata Banerjee and Delhi's Aam Aadmi Party (AAP).
According to an NDTV report, Mamata Banerjee is reportedly upset by the clashes between the workers of the Left and her Trinamool Congress during last week's trade union strike and has therefore decided not to attend the opposition meeting. She said, "What happened yesterday in the state -- it is no more possible for me to attend the meeting anymore. I was the first to launch an Andolan (movement) against CAA, NRC," she said. "What the Left and the Congress are doing in the name of the CAA-NRC is not a movement but vandalism". Congress Worker Counters BJP After Party's Toll-Free Number on CAA Goes For a Toss With Sex, Netflix And Data Promises on Twitter, Posts Another Number to Protest Against CAA-NRC.
Chief Mayawati tweeted "BSP will not attend today's opposition parties meeting called by Congress". She had recently attacked Sonia Gandhi and Priyanka Gandhi Vadra over the infant deaths at a hospital in Rajasthan's Kota. She said if the "woman general secretary of the Congress" would not visit Kota to meet the mothers who lost their children, then her meetings with families of victims in Uttar Pradesh will be considered for "political interest and drama".
Check Mayawati's tweet:
2. ऐसे में कांग्रेस के नेतृत्व में आज विपक्ष की बुलाई गई बैठक में बीएसपी का शामिल होना, यह राजस्थान में पार्टी के लोगों का मनोबल गिराने वाला होगा। इसलिए बीएसपी इनकी इस बैठक में शामिल नहीं होगी। 2/3

— Mayawati (@Mayawati) January 13, 2020
Sonia Gandhi in the meeting of Opposition parties wants to decide on a joint strategy over the contentious Citizenship Amendment Act (CAA) and the proposed nationwide National Register of Citizens (NRC). With the protests going on for more than a month now, the Congress wants to rally Opposition parties to devise a common strategy.