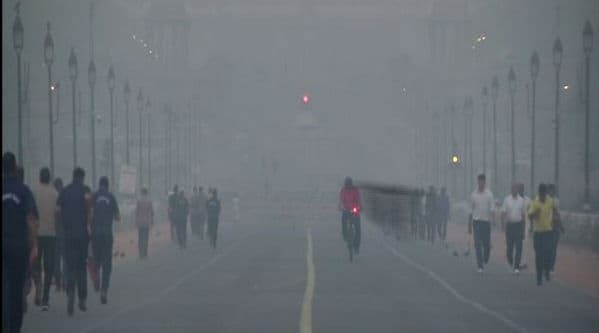 New Delhi, November 4: There has been no respite to the people in Delhi as the pollution levels in the city has shot up. The toxic air has made it very difficult for people to inhale and live their normal lives. According to an Air Quality Index data, the major pollutants PM 2.5 & PM 10, both at 500, remain in the 'severe' category in Lodhi Road Area.
From Monday, the Kejriwal government will start with the odd-even car rule in an attempt to curb the rising pollution. An emergency has been sounded across Delhi-NCR, with schools being directed to remain closed till Tuesday. On Sunday night, the air quality in Delhi had turned the worst in the last three years. Odd-Even Begins: Delhi to See Restricted Car Usage From Today, Air Quality Worst in Last 3 Years.
Air Quality Index (AQI) is at 434 (severe) in ITO, as per Central Pollution Control Board (CPCB) data. A layer of thick smog has blanketed the area around ITO.
Check ANI tweet:
Delhi: Major pollutants PM 2.5 & PM 10, both at 500, remain in 'severe' category in Lodhi Road area, according to Air Quality Index (AQI) data. pic.twitter.com/rqLyaPMZvK

— ANI (@ANI) November 4, 2019
To add to the woes is the rising cases of stubble burning taking place in neighbouring states like Haryana and Punjab. On the Diwali night, many areas in the city recorded an AQI of 999, beyond which reading is not possible, on Diwali night. The prescribed limit is 60.
An AQI between 0 and 50 is considered 'good', 51 and 100 is 'satisfactory', 101 and 200 falls in the bracket of 'moderate', 201 and 300 'poor', 301 and 400 'very poor', and 401 and 500 are considered as 'severe'.