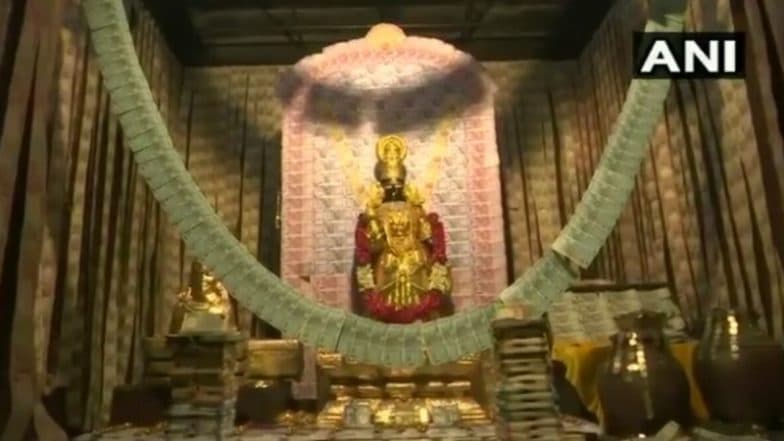 Visakhapatnam, October 6: As Dussehra 2019 festivities gather momentum, the deity goddess and temple interiors at Sri Kanyaka Parameswari temple were decorated with four kg gold and currency notes worth approximately Rs 2 crore. The temple located in Andhra Pradesh's Visakhapatnam, every year is wrapped with gold jewellery and currency notes on the occasion of Devi Navaratri Ustavalu. Tirupati, World's Richest Hindu Temple, Reveals How Much Gold They Have.
There is a popular belief that placing the currency notes and gold before the goddess Ammavaru for the puja is lucky. Once the puja is over, the money, which is a public contribution, is returned back. The money does not go to the temple trust.
Here's the video:
#WATCH Deity goddess and temple interiors decorated with 4 kg gold and currency notes worth approximately Rs 2 crores at Sri Kanyaka Parameswari Temple in Visakhapatnam. #AndhraPradesh pic.twitter.com/JHxry6DLMV— ANI (@ANI) October 6, 2019
In the 140-year-old temple, thousands of devotees visit for a darshan of the gold and currency adorned goddess. People believe that placing the money at the goddess' feet brings good luck in the business and fetches big returns.
Across Andhra Pradesh, offerings in gold and cash are made to the deities, to seek blessing. World-famous Tirumala Tirupati's Balaji temple is the richest temple in the world because of the massive contributions it receives from devotees.