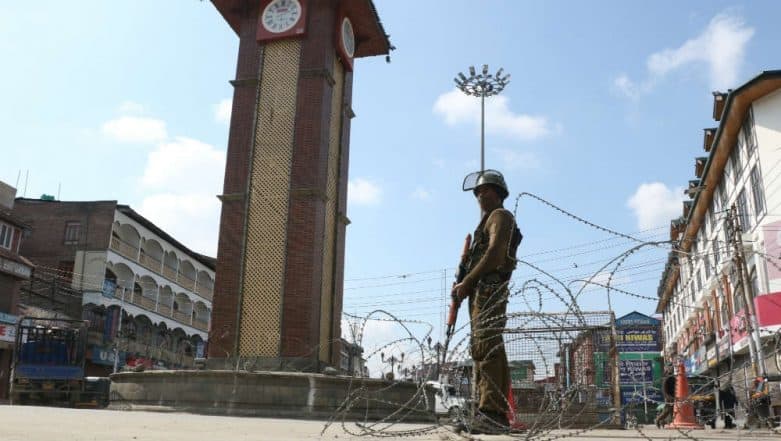 Srinagar, March 11: In a bid to encourage youths hailing from Jammu and Kashmir to shun militancy, the state administration may offer them a monthly stipend of Rs 6,000 and jobs. The proposal has been included in a new reintegration policy draft that is under the consideration of the Jammu and Kashmir administration headed by Governor Satya Pal Malik.
The reintegration policy draft proposes a monthly stipend of Rs 6,000 for a militant who surrenders 'to encourage him to join the mainstream'. The new initiative addresses the need for rehabilitation at a policy level through a two-pronged approach: reformative measures and opportunities of livelihood, according to the draft. Militants found to have been involved 'in heinous crimes' won't get the proposed benefits. Indian Army Recruitment Drive in Jammu & Kashmir's Doda District Attracts Over 2,000 Kashmiri Youth.
"The reintegration policy draft is presently at the pre-SAC stage. It is subject to clearance by the State Home Department and the Chief Secretary," K Vijay Kumar, advisor to the state government, told Indian Express. The State Administrative Council (SAC) is the body governing Jammu and Kashmir. The latest proposal comes weeks after Lt. General KJS Dhillon appealed to Kashmiri mothers to bring back their sons, who have gone wayward and joined militancy. Jammu and Kashmir: Indian Army's Recruitment Drive in Baramulla District Attracts Kashmiri Youth.
"I appeal to the mothers of those who have taken the path of violence, to ensure they do not join militancy or terrorism. If they have joined militant ranks and want to return, we will ensure they return to the mainstream," Dhillon had said. The General Officer Commanding of Srinagar-headquartered 15 Corps assured that all those who decide to give up militancy will have a safe entry into the mainstream.
"There is a very good surrender policy being initiated by the government so that they can join the mainstream," Dhillon had said.