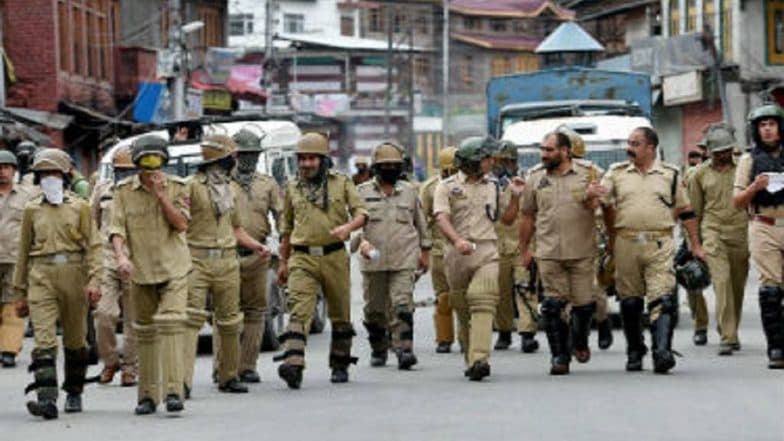 Srinagar, February 10: Hours after the Indian Armed Forces gunned down five terrorists in Kellam Devsar area in Kulgam district on Sunday, another grenade attack took place near Palladium lane at Lal Chowk in Srinagar. In the terror attack, four Jammu and Kashmir police personnel, three CRPF jawans and four civilians got injured. The security forces have cordoned the area, and the combing operation is underway.
Briefing about the terror attack in Srinagar, the state police said that the injured had been taken to the hospital for treatments, the area has been sealed. The state police informed that a case had been registered in this regard and officers are continuing to work to establish the full circumstances of the incident. No details of an arrest have been made so far. Jammu and Kashmir: Five Terrorists Gunned Down by Security Forces in Kulgam Encounter. 
Earlier in the day, the security forces gunned down five terrorists in an encounter in Kellam Devsar area in Kulgam district. According to ANI, the gunfight started between the security forces and the terrorists in the morning during a search operation. After the encounter, the bodies of the militants were recovered, while their identities have to be ascertained. The Police has also recovered weapons and warlike stores from the site.
As per the reports, after the encounter, stone pelting took place in the area. Stating more, SP Pani, IG Kashmir said, "During the exchange of fire, five terrorists were killed, arms and ammunition have been recovered. There has been no collateral damage & the encounter site has been cleared."