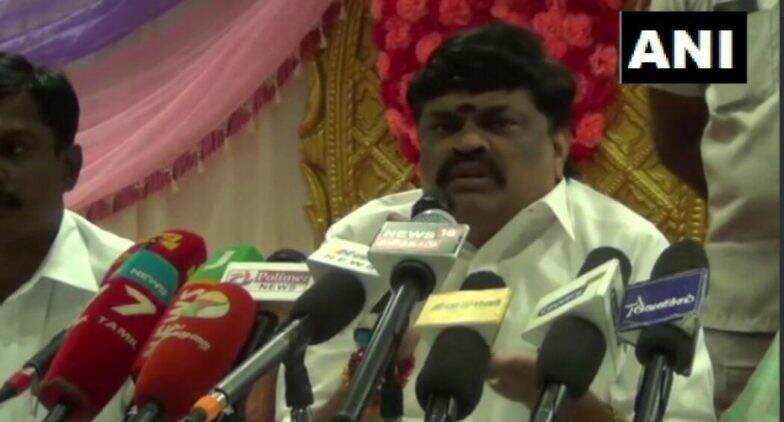 Chennai, May 13: In an attempt to slam actor-turned-politician Kamal Haasan for his remark that India's first terrorist was a "Hindu", referring to Nathuram Godse, Anna Dravida Munnetra Kazhagam (ADMK) leader K.T. Rajendra Balaji on Monday said that Makkal Needhi Maiam (MNM) chief's tongue should be chopped off for his remarks on Hindu terror. Kamal Haasan Calls 'Hindu' Nathuram Godse Independent India's First Terrorist.
"Kamal Haasan's tongue should be cut off for his remarks on Hindu terror. He made these remarks to gain votes of minorities. We can't blame the entire community for the act of 1 individual. Election Commission should take action against the actor and ban his party, "the State Minister for Milk and Dairy Development said.
On Sunday night, addressing an election campaign at Aravakurichi, Haasan said, "I am not saying this because this is a Muslim-dominated area, but I am saying this before a statue of Gandhi. Free India's first terrorist was a Hindu, his name is Nathuram Godse. There it [terrorism, apparently] starts." Kamal Haasan Won't Contest Lok Sabha Elections 2019; He Promises '50 Lakh Jobs, 100% Profit to Farmers' in Makkal Needhi Maiam Manifesto.
Haasan's remarks drew criticism from the Bharatiya Janata Party (BJP), which accused him of indulging in "divisive politics", the actor found support from the Indian National Congress and Dravidar Kazhagam.
On Monday, Tamil Nadu Congress chief KS Alagiri supported Kamal Haasan and said: "I support and agree with Kamal Haasan's statement not only 100%, but 1000%." He also compared Rashtriya Swayamsevak Sangh (RSS) with the militant group Islamic State.