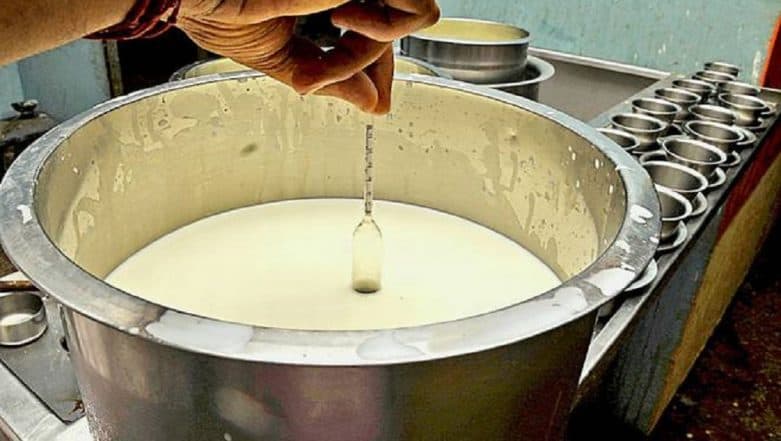 Mumbai, October 18: The Food and Drug Administration (FDA) while acting on a tip-off that adulterated milk was being supplied to Mumbai, investigated around 227 milk tankers on Wednesday. The FDA carried out surprise checks at five locations - Dahisar, Mulund, Mankhurd, Airoli and LBS Marg. The milk containers were carrying 9.22 lakh litres of milk.
The investigations started from midnight and all the milk vans coming towards Mumbai were investigated. During the investigation, FDA officials found that out of 9.22 lakh litres of milk, nearly 19,250 litres was adulterated. The milk samples tested positive for contaminants ammonium sulphate, maltodextrin and sucrose. How to Check Purity of Milk, Honey, Food Grains & Other Household Product?
The FDA officials while speaking to media said that the adulteration appeared to be deliberate and legal action will be taken against the accused under the Food Safety and Standards Act (FSSA). Following this, 19,250 litres of the milk was destroyed and the milk whose quality could be improvised was sent back to the manufacturing units. Vegetarians Beware! Paneer Adulterated With Urea and Sulphuric Acid.
Some quick tests to check adulteration of Milk:
Water in milk: To check the water adulteration in milk, put a milk drop in the polished slanting surface. If the milk is pure it will stay or either leave a slanting white line while flowing. Adulterated milk will flow immediately with leaving a white mark.
Detecting starch in milk: Boil 2-3 ML of milk with 5 ML of water. After it gets cool, add two drops of tincture of iodine. If the milk turns blue it indicates the presence of starch.
During the festive season when the demand for milk and its related product rises, to meet the demands and increase the profit manufacturing units, sellers often sell adulterated products.