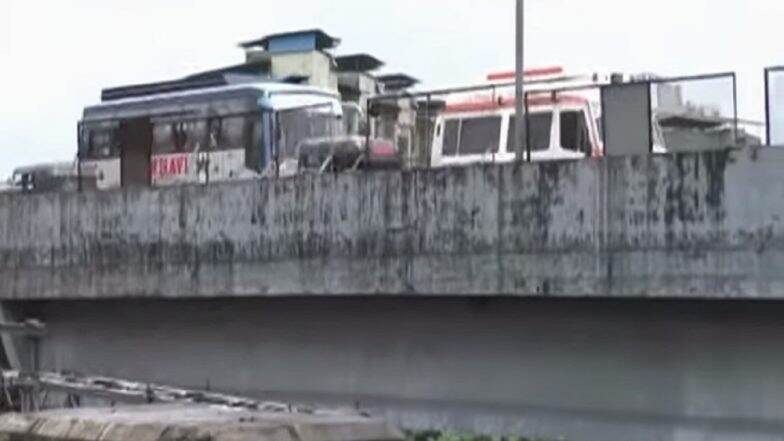 Mumbai, November 16: A massive mega block is schedule by the Central Railway in Mumbai on Sunday, with over 170 suburban trains being cancelled for a six-hour period, along with a postponement of 14 intercity trains to Pune and Nashik. The mega block will be imposed between 9:30am to 3:30pm, said the statement issued by the Railways.
During the six-hour block period, the Central Railway would be running 120 special trains between Dombivli and Chhatrapati Shivaji Maharaj Terminus (CSMT). Kalyan: 104-Year-Old Patri Pool Bridge to be Demolished.
Apart from local commuters, some of the long-distance passengers could also face inconvenience as schedule of 15 trains passing through Mumbai has been rejigged.
Massive Mega Block: Check Full List of Trains Cancelled/Diverted: 
@Central_Railway @mumbairailusers @RidlrMUM #megablock on Sunday to dismantle 104 yrs old patri pool in #kalyan seven mail up and down trains cancelled locals cancelled from 9.30 to 15.30 for 6 hours @MumbaiMirror pic.twitter.com/JUTPv5d08I

— Vinay Dalvi (@VinayMIRROR) November 16, 2018
The weekly mega block, which usually witnesses cancellation of few local trains, has led to an unprecedented rejig in trains schedule this Sunday as the Central Railway will demolish the 104-year-old Patri Pool Bridge in Kalyan.
The decision to dismantle the bridge was taken in July, after a study conducted by the BMC and IIT-Bombay found it to be "unfit" for sustaining traffic.
Since July, heavy vehicles were barred from plying on the bridge, whereas, lighter vehicles and two-wheelers were stopped from August 22.
Commuters in Kalyan are bound to experience heavy congestion till the Central Railways reconstructs a new bridge.