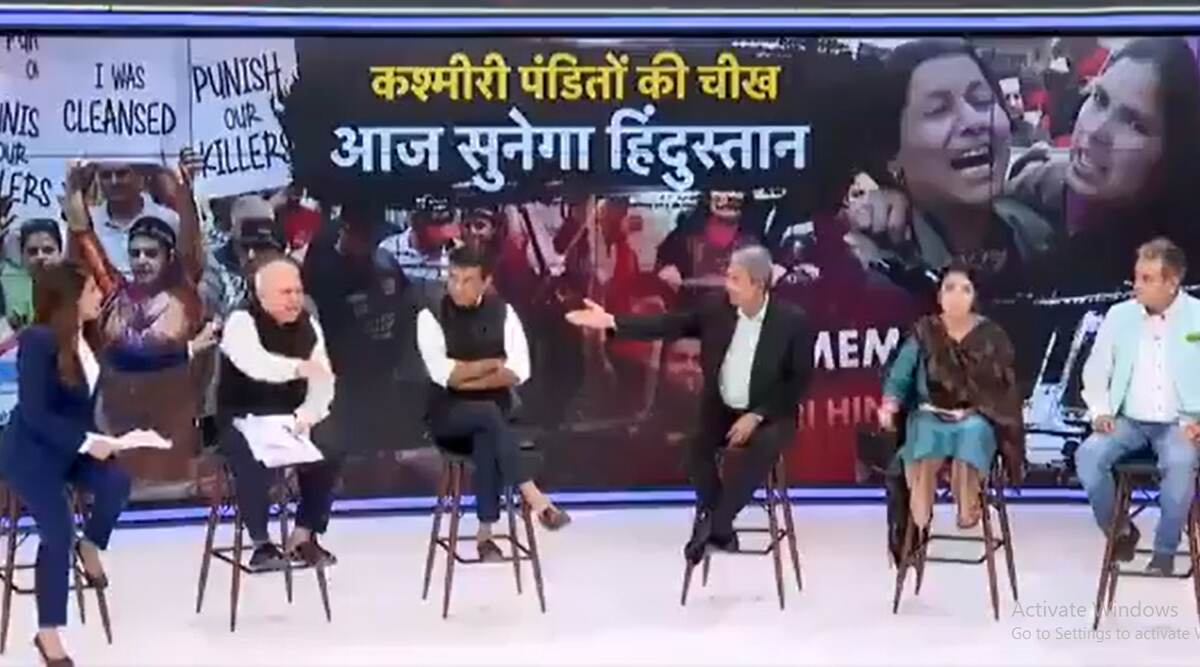 Mumbai, November 17: A former Indian Army officer, Retired Major General SP Sinha, who joined the Bharatiya Janata Party (BJP) in the year 2013, sparked controversy after he advocated "rape for rape and death for death" on live TV on a news channel. In the video shared and denounced widely on Twitter and social media, the Major General can be heard saying that if a rape has taken place, it must be avenged by a rape and that death should beget death. The incident took place while a discussion was taking place on the issue of Kashmiri Pandits having to migrate from the valley decades ago. Netizens and Twitterati are incensed at the comments made by the Retired Major General and are also calling out the news channels for "encouraging" and "inviting" panelists who make insulting remarks.
The anchor of the show and the news channel, TV9 Bharatvarsh, tried to stop General Sinha from making anymore comments, but he did not stop despite the repeated warnings and admonitions. The fellow participants also let their displeasure known at the remark and collectively called for calm after the General shouted his utterances. 'Journalists Are Not Models', News Anchor Nina Harrelson Schools Body Shamer Who Told She Looks 'Mighty Big on TV'.
See the Video in the Tweet Below
'Balatkar ke badle balatkar'.

This must be a new low for TV news. Shame not just on this particular person, but on Godi media channels who give a platform to and normalize such toxicity. https://t.co/bUnOhpJGmQ

— Umar Khalid (@UmarKhalidJNU) November 17, 2019
People Were Aghast at the Insensitive Remark
'बलात्कार के बदले बलात्कार': नेशनल टीवी पर रिटायर्ड आर्मी अधिकारी चीख चीखकर कह रहा है

ये आदमी टीवी चैनल पर कैसे बैठा है? औरतों के खिलाफ रेप की घोषणा करनेवाले इस आदमी को सजा होनी चाहिए

NCRB 2017 डाटा के मुताबिक देश में 3.68 लाख औरतों का बलात्कार दर्ज हो पाया है, बाकी का पता नहीं pic.twitter.com/TJpLRqnX8U

— Jyoti Yadav (@jyotiyadaav) November 17, 2019
Netizens Calling Out the General For the Comment
The discussion is about Kashmiri Pandits. Rtd Maj Gen S P Sinha shouts: Revenge a death with a death, revenge a r@pe with a r@pe.

Many old junks like this idiot believe retiring from defence service as an officer is a license to utter any nonsensepic.twitter.com/RcEwjiMPiq

— Ravi Nair (@t_d_h_nair) November 17, 2019
"A Disgrace to the Uniform," Said This Tweet
Wonder why crimes against women are increasing every year? Wonder why men in this country rape, mutilate, kill with impunity? Because their projected "heroes" encourage it on national TV. What a petty, disgraceful, disappointing excuse of a man, a disgrace to the uniform! https://t.co/2mvEZ413cs

— TheRichaChadha (@RichaChadha) November 17, 2019
'
Users Demanding Action
I've written this evening to the Chief of Army staff & the MoD demanding that:

1. The Indian Army clarify its position on the despicable words used by this lowlife called Maj. Gen. SP Sinha

2. To initiate proceedings for stripping his rank & freezing his pension

(1/3) https://t.co/WTcdjtKVgj

— Saket Gokhale (@SaketGokhale) November 17, 2019
As can be sensed from the above tweets, netizens and Twitterati are really angry about the comments made by the former (retired) General. People condemned the "rape for rape" remark and are appalled at the falling standard of debates and derogatory language used in TV news channel studios. Many called for moderation during the debates and panel discussions on the TV news channels to avoid such incidents. Several users also demanded action against the Retired General turned politician for his callous remarks.