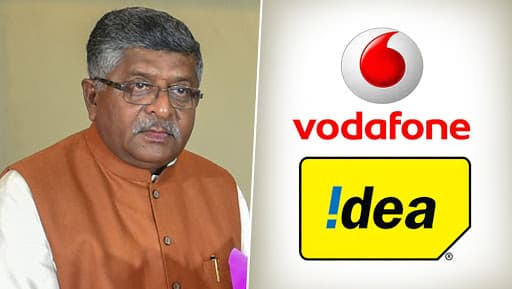 New Delhi, September 5: Amid the prevailing economic slowdown and price wars to sustain in the market, Union Telecom Minister Ravi Shankar Prasad has refused to intervene in raising tariffs of loss-making Vodafone-Idea cellular which could help the sector recover for the financial crisis. The Minister also asked the telecom operator to set its house in order to take on the competition with its competitors. Economic Crisis in India: LIC Loses Rs 17,000 of its Wealth in PSBs in Last 1 Year
Stating that the tariffs were not under the domain of the Department of Telecommunications (DoT), Prasad refused the Vodafone-Idea's request and said that tariffs are matters prerogative of the Telecom Regulatory Authority of India (TRAI). The Minister further noted that tariffs are under a special agreement between the lender and the borrower and the government has no role to play in it.
Ministry sources claimed that Prasad had asked the executives that the company needed to take internal measures to deal with competition. Earlier, chairman of the Aditya Birla Group — Kumar Mangalam Birla met the Union Telecom Minister — along with CEO of Vodafone Idea Ravinder Takkar — to discuss the issue. Though the telecom operator calls this meeting a courtesy call, sources informed that matters of high debt and falling revenue were discussed. Economic Crisis Deepens in India as Rupee at 9-Month Low, Stock Market Crashes And Investor Wealth Plunges Rs 2.55 Lakh Crore
According to a report, published in the Economic Times, the telco — created by the merger of Vodafone India and Idea Cellular — suffered a consolidated loss of Rs 4,873.9 crore for the June 2019 quarter, while its revenue fell over four percent sequentially, despite a rise in average revenue per user (ARPU). The telecom company even lost 14 million users. Its debt at June end was around Rs 99,300 crore, factoring in a rights issue of Rs 25,000 crore. However, the telco's debt to Ebitda ratio was still at 20 times, and CLSA described this as "uncomfortable".