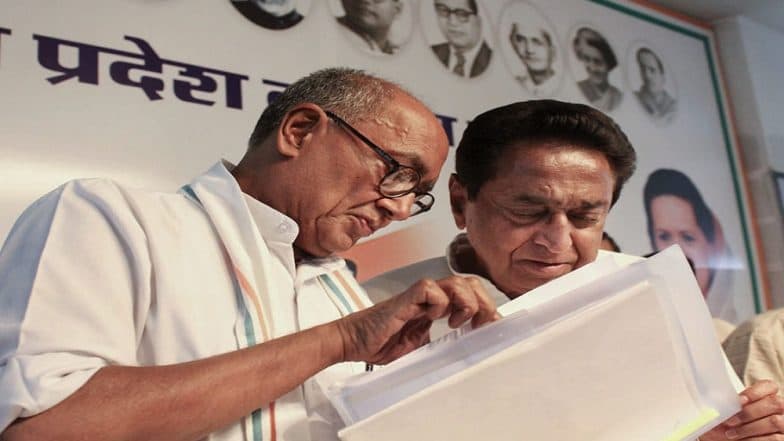 Bhopal, October 11: Senior Indian National Congress leader Digvijaya Singh on Friday, October 11,  took a jibe at cow vigilantes. In a tweet, the party veteran shared a picture of stray cows sitting along the Bhopal-Indore highway and raised the issue of accidents. He also asked where are the cow vigilantes (gau rakshaks) who love cow as mother. Digvijaya Singh Sparks Controversy Again, Says 'People Wearing Saffron Robes Committing Rapes Inside Temples'.
"This is a picture of the Bhopal-Indore highway where stray cows sit and die almost every day in an accident. Where are the gau rakshaks who love the gau mata? The MP government should immediately remove these stray cow from the roads and send them to cow sanctuaries or gaushalas," Singh said in a Tweet.
In a next tweet, Singh appealed to Chief Minister Kamal Nath to take action. "Kamal Nath JI, if could do so immediately, you will be counted among the true gau bhaktas and the so-called BJP leaders will also get some guidance," he said.
Digvijaya Singh Tweets:
यह चित्र है भोपाल इंदौर हायवे का जहॉं आवारा गऊ माता बैठी रहती हैं और लगभग हर दिन ऐक्सिडेंट में मर जाती हैं। कहॉं हैं हमारे गौ माता प्रेमी गौ रक्षक? मप्र शासन को तत्काल इन आवार गौ मात को सड़कों से हटा कर गौ अभ्यरण या गौ शालाओं में भेजना चाहिये। pic.twitter.com/LC6sxPq9Xr

— digvijaya singh (@digvijaya_28) October 11, 2019
यदि कमल नाथ जी आपने तत्काल ऐंसा कर के दिखा दिया तो आप सच्चे गौ भक्तों में गिने जायेंगे, और तथा कथित भाजपाई नेताओं को नसीयत मिलेगी।

— digvijaya singh (@digvijaya_28) October 11, 2019
Meanwhile, last month, MP Forest Minister Umang Singhar had alleged that Digvijaya Singh is "running the state government from behind the screens". He had also accused the party veteran of being a blackmailer and his involvement in the sale of liquor.