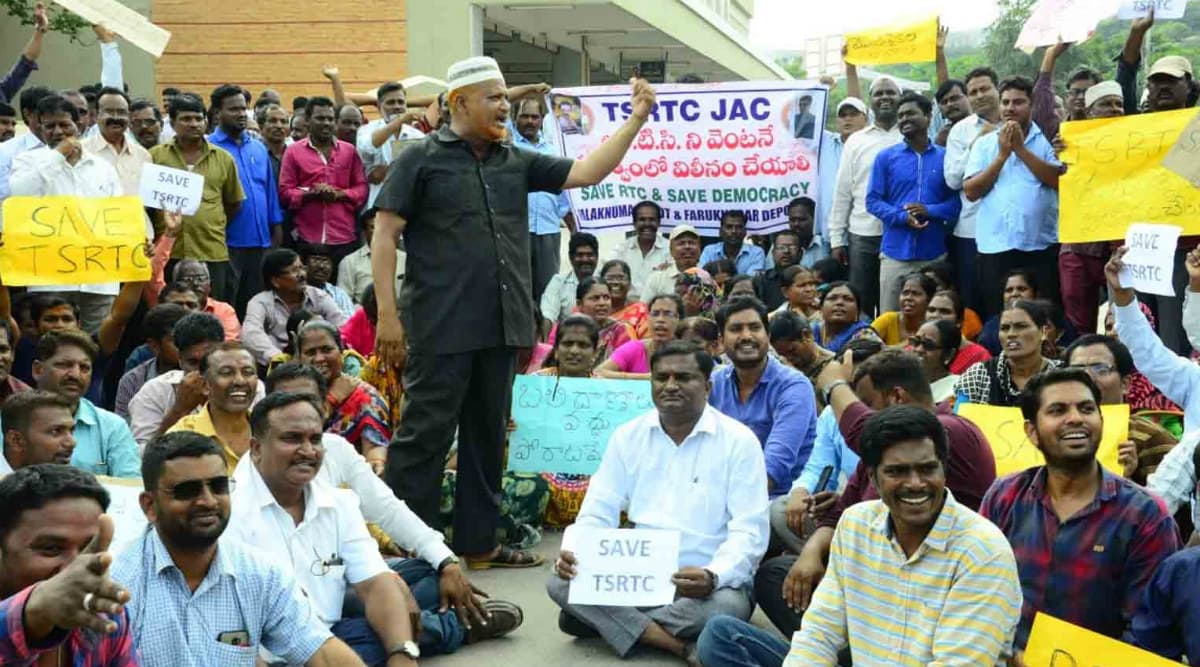 Hyderabad, October 28: The strike called by Telangana State Road Transportation Corporation (TSRTC) employees entered into its 24th day on Monday, with the protesting workforce blaming Chief Minister K Chandrasekhar Rao of turning their Diwali "dark". Commuters, including workers and families on vacation, continue to face massive difficulties due to the ongoing TSRTC strike. TSRTC Employees Not Yet Been Paid September Month Salaries, Says Telangana Shiv Sena.
On Monday morning, several among the 48,000 striking employees formed groups and staged dharnas outside the TSRTC depots across the state. Speaking to reporters, the employees said the KCR government has not released their salaries since September.
"We had no money to buy new clothes for our children. We could not afford firecrackers. After ruining our Dussehra, the Chief Minister has even deprived us of celebrating Diwali," one of the protesters said.
Notably, the strike is underway since October 5 when all the employee unions of the Telangana transport sector employees called a strike. Among the charter of 26 demands presented by them included a pay revision, the release of pending salaries and the merger of the TSRTC with the state government.
The KCR government cited the fiscal straints as the reason for turning down their demands. He had issued the deadline of October 8, directing all protesting workers to resume their charge or face severe action. As the strike continued, he decided to sack all the 48,000 striking employees.
The "terminated" employees were also denied their pay benefits, as KCR announced that the workers were "self-dismissed" as they did not turn up to work despite the stipulated deadline.
Since October 8, a total of three TSRTC workers have committed suicide. The unions, who are leading the agitation, have alleged that six more employees have died due to cardiac arrest.