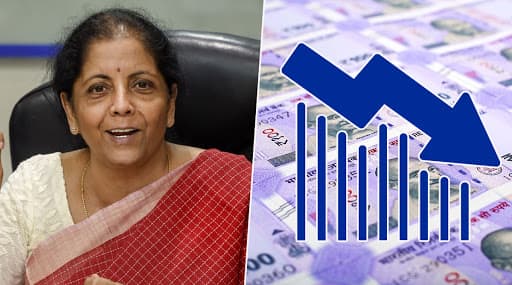 New Delhi, January 22: With ten days left for Union Finance Minister Nirmala Sitharaman to read out the Union Budget 2020, speculations are on the rise that Sitharaman might even set more ambitious disinvestment target of Rs 1.5 trillion for the year starting 1 April. Experts opine that this change in the plan might take place as many of the strategic sales planned for the current year have been delayed, including for Air India, BPCL  and SCL .
According to a report, published in LiveMint, the Union government is mulling to complete major strategic disinvestment in the next fiscal which they could complete. Among the public sector undertaking (PSU) that went for disinvestment, but couldn't complete the process include Air India, Bharat Petroleum Corp. Ltd (BPCL), Container Corporation of India Ltd (Concor) and Shipping Corporation of India Ltd (SCI). Union Budget 2020 Expectations: Here's What Jewellery, Auto, Travel, E-Commerce Sectors Expect From Nirmala Sitharaman's 'Bahi Khata'.
Informing about the Union Finance Ministry's plan, a senior official said, as the daily quoted, "We expect around Rs 1 trillion from the privatization of BPCL, Air India, Concor, SCI and the rest from buybacks and follow-on public offers in some CPSEs (central public sector enterprises). While the process of strategic disinvestment of the four CPSEs will begin in the current fiscal year, the proceeds will accrue only in the next fiscal year."
As per the media reports, the Union government had garnered Rs 18,095 crore through stake sales in 2019-20 and would fall short by Rs 50,000 crore due to delays in the disinvestment process. The previous target set by Union government through disinvestment was Rs 1.05 trillion. Union Budget 2020: Finance Ministry Should Take Measures to Boost Rural Demand, Says Raghuram Rajan.
It is to be known that the Union government is planning to divest 100 percent ownership in Air India, 63.75 percent stake in SCI, 53.29 percent stake in BPCL, and 30.8 percent -- out of its current 54.8 percent -- stake in Concor. Apart from this, the Union government is also mulling to consolidate CPSEs in the power sector. The Government is planning to approve the sale of its entire stake in Tehri Hydro Development Corp. -- 74.23 percent stake -- and North Eastern Electric Power Corp. Ltd -- 100 percent stake -- to NTPC Ltd.