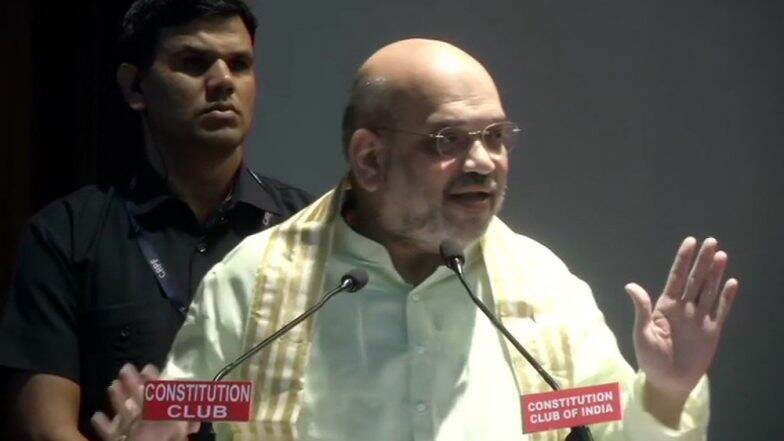 New Delhi, August 18: Home Minister Amit Shah, speaking at an event on Sunday, defended the abolition of Triple Talaq. Shah also lashed out at the Congress, calling the grand old party "shameless". In his all out attack on the Congress party, the Home Minister alleged the party of playing "vote-bank" politics. Shah was speaking at a BJP event titled "Abolition of Triple Talaq - Correcting a Historic wrong" in New Delhi. Calling Triple Talaq a "malpractice", Shah said that "some parties opposed the bill in Parliament but deep inside their heart they knew it was a malpractice that needed to end but they didn't have the courage to do it," in a veiled attack on the Congress. Triple Talaq Bill Passed: Here's How PM Narendra Modi, Other Politicians and Twitterati Reacted.
Shah recalled the Shah Bano case to drive home his point and elaborated, "On April 23, 1985, SC gave order in favour of Shah Bano, and the court abolished triple talaq. It said giving maintenance was mandatory and a reason must be given for talaq. But, Rajiv Gandhi under pressure from orthodox Muslims and vote bank brought a law overturning SC's decision." Triple Talaq Bill Passed in Lok Sabha After Heated Debate With 303 Votes in Favour, 82 Against.
Amit Shah accused the Congress of supporting Triple Talaq and said that "Congress has no shame." Alleging the grand old party of vote-bank politics, Shah said that the Congress argued in the favour of Triple Talaq and opposed the Muslim Women (Protection of Rights on Marriage) Act, 2019 for the sake of "vote-bank" politics.
"I would like to make it clear that the triple talaq (Bill) is only for the benefit of the Muslim community, not for anything else. Hindus, Christians and Jains are not going to benefit by it because they never had to suffer due to it," said Shah at the event.
Tabled for the third time in the Rajya Sabha over the last 18 months, the law to criminalise the practice of instant triple talaq was finally passed by the House on July 30, 2019. Out of the 183 lawmakers who participated in the voting, 99 voted "ayes", whereas, 84 MP voted against the the Muslim Women Protection of Rights on Marriage Act, 2019.