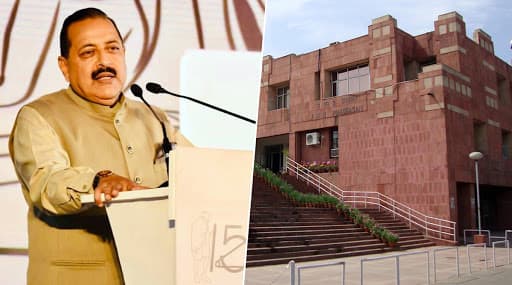 New Delhi, October 3: Union Minister of State for Prime Minister's Office Jitendra Singh on Thursday raised concerns on the protests against the abrogation of Article 370 from Jammu and Kashmir and stated that former Prime Minister Jawaharlal Nehru himself had called this provision temporary. Questioning the idealogue, the Union Minister said that people are opposing their country's only patriarch, while they should accept it.
Addressing a gathering in Jawaharlal Nehru University on Thursday, Singh said, "I'm confused, the greatest protagonist of Article 370 was none other than Pt. Nehru, and he himself said on record that this is going to be a temporary provision. So whom are we opposing? We are opposing our own patriarch, our own ideologue, as you accept him." JNU on Boil Yet Again: ABVP, AISA Students Lock Horns Ahead of Jitendra Singh's Lecture on Article 370.
Earlier in the day, tension escalated in the Central University when students groups of Left-backed All India Students Association and RSS-affiliated Akhil Bharatiya Vidyarthi Parishad (ABVP) clashed ahead of Jitendra Singh's lecture on "Abrogation of Article 370: Peace, Stability and Development in Jammu, Kashmir & Ladakh".
The clash began after AISA students gathered outside the Convention Centre where the lecture was scheduled to happen, and following this, several student supporters of ABVP reached there and staged counter-protest, leading to scuffles between rival groups. It is to be known that the Union government abrogated Article 370 from Jammu and Kashmir, and bifurcated the state into two Union territories -- Jammu and Kashmir, and Ladakh. Following this, all communications mediums were curtailed, and over 400 political leaders were detained.