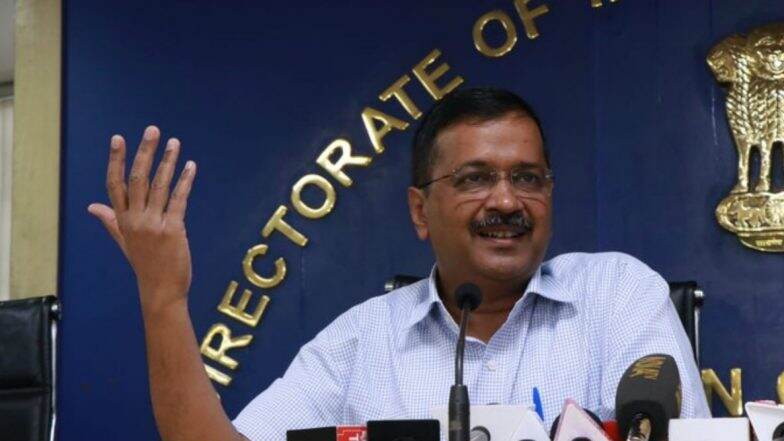 New Delhi, October 8: Delhi Chief Minister Arvind Kejriwal has been denied permission by the Modi government to go abroad for a three-day climate summit, a report said on Tuesday. Arvind Kejriwal was invited at the C-40 climate change summit in Denmark's capital city Copenhagen. The Aam Aadmi Party (AAP) chief was to speak on his government's efforts to reduce the levels of pollution in the national capital. Arvind Kejriwal Attends Ramleela With Wife Sunita in Delhi's Jhilmil Colony, Says 'People Must Take Their Kids to Watch Ramleela As It's Our Tradition'.
Kejriwal needed clearance from the Ministry of External Affairs (MEA) to attend the event. He was scheduled to leave for Denmark at 2 pm tomorrow, news agency PTI reported. However, the MEA hasn't given clearance to Kejriwal, a move that may trigger a fresh confrontation between the Delhi government and the Centre. While Kejriwal has been denied permission, West Bengal Minister Firhad Hakim has been allowed to attend the summit. Arvind Kejriwal: Delhi People Consider Their CM Honest, Can Same be Said for PM Narendra Modi?
The C-40 climate change summit will take place between October 9 and 12. Reacting to the development, the MEA told NDTV that that the decisions on "political clearances are based on multiple inputs and takes into account the nature of the event, the level of participation by other countries, type of invitation extended etc". Recently, Kejriwal's deputy Manish Sisodia had faced similar issues to get political clearance for his visit to Russia.
Last year, the MEA had declined to accord permission to Delhi government Health Minister Satyendra Jain to visit Australia on an invitation from University of Melbourne and George Institute in Sydney. The AAP government and the Centre have been at loggerheads for the past five years over a host of issues, with Kejriwal accusing the Bharatiya Janata Party (BJP) government of stalling their welfare schemes through the Lieutenant Governor.